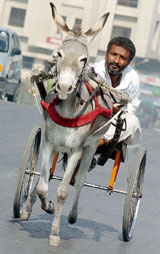 Karachiites know donkey cart races well.
I have myself witnessed them on many different streets in the city, from Sharah-e-Faisal to the main Univeristy Road. Amin Gulgee has even erected a monument to celebrate the city's interesting pastime.
Donkey carts, with their single riders guiding them masterfully on Karachi streets and making noise from pebble-filled cans, may be deemed dangerous by some residents of the city, but they are a unique Karachi thing and demonstrate the vibrancy present in the local communities (in this case it is the coastal Makrani community who are typically given the credit for inventing donkey cart racing in Karachi).
Believe me, if you haven't seen them before, you are missing a stirring sight. Even our President Musharraf has remarked in the past that "Donkey cart race reminded me of Ben Hur movie".
The following news item in The News caught my attention. Its great to see some attention being given to our local sports and customs. (Nice headline too: