Adil Najam
This is not an ATP Photo Quiz (here, here and here). This is more of a continuation from earlier ATP posts over the last few days (here, here, here, here, and here).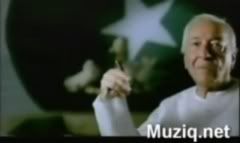 Well it started with an earlier post on the new music video of Mehdi Hassan's 'yeh watan tumhara hai' and this picture on the left above. Adnan Siddiqi suggested that it was poet Munir Niazi (when you are talking about Munir Niazi, you do not have to put the prefix 'famous' before poet; it is understood). This sequence comes late in the song when the gentleman in white (seemingly, holding a pen, which adds credence to the idea he might be Munir Niazi) is with a young boy, he verse goes, 'yeh watan amanat hai, aur tum ameen loogo', and he hands the pen to the youngster and presses his hand tightly as only a grandfather figure can. (See video here, read earlier ATP post here).
My immediate thought when I first saw this picture was also that it was Munir Niazi – despite the fact that my memories of him are always with his thick flowing hair, his 'devil may care' attitude, and an 'angry young man' look that never aged. ATP readers also seem to think it is Munir Niazi. Upon seeing this clip again and again and scourging the web for any evidence, my sense is that it is NOT Munir Niazi. I hope it is not, because the gentleman in the video is much aged in frail health and I would not want that to be Munir Niazi. So, my question is, does anyone know for sure? Also, does anyone know who the poet of this song is? (By the way, sampling of Munir Niazi's poetry here).
All of this made me also look at other clips more closely. Here are some interesting one, on which I also need your help.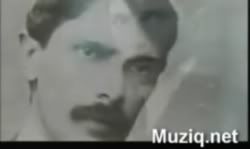 The one on the top-left is a young Jinnah. The next one (lady in b&w) is more interesting. I know I have seen the picture before, but cannot place it (or find it on the internet). It is certainly not Ruttie (Jinnah's wife); it could be his first wife but I doubt it (and also do not think it would be appropriate); it could be Jinnah's mother, because it comes up in the song at a time when motherhood is the subject (or one of his other sisters). Any ideas?
The two pictures at the bottom, which come soon afterwards in the video, are even more interesting.
The elegant gentleman in the sherwani like coat with the streak of white in the hair is clearly an important part of the story being told and is given significant airtime. But I have no idea who he is. But would love to find out.
The picture on the right is where it gets more interesting. I am quite sure that the lady in the picture is Jinnah's daughter, Dina Wadia, and that it was taken during her 2004 visit to Lahore and Karachi. Dawn's Ardeshir Cowasjee had a wonderful account of her visit to Karachi, where he mentions that the words she wrote in the visitor's book at her father's Mazar, expressed the wish, "May his dream for Pakistan come true." From all of us, i say Ameen!
But coming to the mystery, the gentleman with her in this photograph seems to be the same person in the picture on the left. One would not expect it to be, and it certainly is NOT Nusli Wadia, Jinnah's grandson. But who is he? Anyone?