Owais Mughal
Browsing through National Urdu Dailies today (all of these are from today) I came across following news. I find it an interesting mix. Some of these will make you smile, some will confuse you and some may intrigue you. Take a look (clicking on the image will give you a larger view):
(1) This one is from Quetta. Last night 2 manhole covers got stolen there. Authorities are now asking people to help.

(2) This person 'Chand Bhai' (brother moon) seems very concerned about the quality of cellular service. Who is this 'chand bhai' by the way? A Karachi local news

(3) First news is from Nawa-i-Waqt and is reported by none other than our famous 'Cultural Reporter'. Baji Sangeeta is apparently a candidate for the chair-woman-ship of Pakistan Film Producers Association. Read about the challenge she is giving to her opponents. I also enjoyed reading names of some of her followers.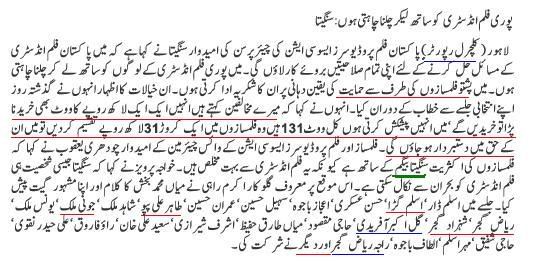 (4) This one is from today's Jang. It is a news from Quetta from a union council called 'Samandar Khan' and it is kind of sad. I was intrigued by the modus operandi of addicts as reported here: they seem to frequent graveyards where they accost those coming to mourn their loved ones and then threaten that they will stab themselves to commit suicide unless they are given money!

(5) This is a Karachi Local news. The word 'daryaft' (discovered) made me laugh out loud. Sounds like a secret passage under an Egyptian pryramid got discovered. Also note the route of this hidden sewrage metculously investigated by the 'Jang' reporter all the way upto Arabian Sea. Enjoy

(6) I couldn't understand how motorcycles will help in artificial breeding of dairy animals. This is a Lahore local from today's Jang.
(7) Sad news but the use of word 'bilbila' made me smile