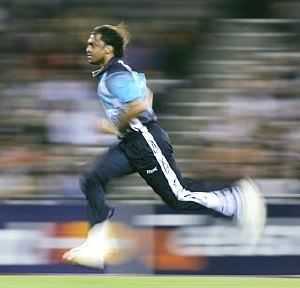 Adil Najam
Shoaib Akhtar is in the news again.
There is the news about him failing to show up for the Pakistan team's dope test. This, of course, coming so soon after Shoaib's earlier dope debacle raises serious concerns. Even more serious are the allegations he has made on the team coach – and since denied by Woolmer – about racist remarks.
None of this is to be taken lightly. But right now I am just not in the mood for heavy writing. So I will leave discussions on this to our readers. Let me share with you instead this video clip I found on YouTube. It turns out its fairly old and has done the email and web rounds already. However, I had not seen it before and I assume there may be others like me out there.
So, enjoy. Here is Shoaib Akhtar unplugged. Singing Kishore songs, smoking, laughing his heart out, and taking friends on a tour of his ancestral village.
I have no idea about the context of this video; if anyone knows, please share.