Among many unique things we follow at ATP, Pakistan's domestic cricket is one of them (see here, here and here). The Finals of 2009-10 Quaid-e-Azam trophy concluded in Karachi today. Habib Bank was playing against Karachi. I had been following the match on Geo Super since monday. This morning when Karachi got first 5 wickets of HBL for 46 runs and the tournament committee started displaying the trophies on a table, I said to myself that now is the time to go to the National Stadium.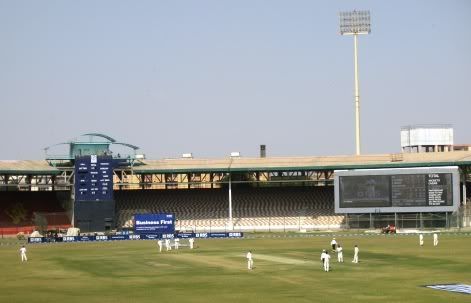 I requested my father to give me a ride and along with my two nieces we reached National stadium at 1 p.m. By the time we entered Hanif Mohammad enclosure, HBL had lost 9 wickets for a partly score of 58. Since Karachi's team was playing therefore their support in the 300+ crowd present in the stadium was unanimous.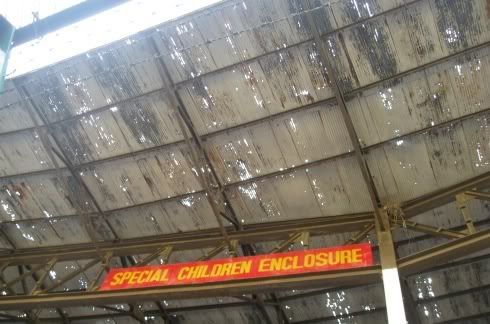 Today I entered National Stadium after 17 years. The last match I saw here was Pakistan-New Zealand test match in 1992. Before that I had been a regular visitor to the stadium, therefore today's visit was quite nostalgic and a walk down the memory lane for me. While everything at eye level looked ok, I cannot say the same for stadium's roof. As I looked up I could see the rot that had set in the 22 year old roof. See the photo to the right, which I took just 3 hours ago. It shows hundreds of holes in the metal roof of National Stadium.
This National Stadium roof was laid in 1987 for the World Cup which was jointly hosted by Pakistan and India. I remember being so thrilled about this added feature in National Stadium, that I used to visit the stadium to see progress on this roof every few days in 1987.
The photo above is from one of my 'inspection' trips from 1987.
Flood lights got installed in the stadium in early 2000s and the current capacity of the stadium is 33,500. I was happy to see plastic chairs now provided across most of the stadium and chairs were in OK condition too. I didn't see any broken chairs.
It has been 13 years since Javed Miandad retired from Cricket but his support in the city is unparalleled. This spectator Umar Awan had brought this placard to the match today. He probably does not even care that Javed is now too old to play cricket but his love and regards for Javed is respectful. When I first saw this person, he was trying to get attention of TV cameras so that his placard could go on National telecast. I requesed him to hold this placard for me and took this photo.
As my nieces and I settled in our chairs I started paying attention to the match of the day. Tanveer Ahmed was bowling for Karachi. Facing him were HBL tail enders who were playing as if they were in a hurry to get out and go home.
Photo to the left shows my two nieces watching Karachi vs Habib Bank Final very patiently.
We had hardly seen a whole over before a fried 'daal' and 'chana jor garam' vendor started taking rounds in the stand we were sitting in. I was tempted to buy some but my nieces didn't show interest and I too became vary of my weak stomach so chaar-o-naa-chaar I let go of the temptation.
Next over was being bowled by Karachi Captain and National Team recall – Mohammad Sami. On the last ball of his over he bowled HBL batsman Sarmad Anwar and with that Karachi won the National Cricket Title for 23rd time in the past 54 years. A loud roar of applause went across the enclosure and Karachi officials and reserves ran from the pavilion to greet the winning team in the center. Karachi had beaten Habib Bank by 141 runs.
Following photo shows this occasion, as victorious Karachi team and their officials are walking back to the pavilion.
Tanvir Ahmed of Karachi Blues topped the bowling charts of the tournament with 85 wickets from 11 matches at 17.12. Mohammad Sami took 38 wickets from 10 matches.
Score card of the Finals can be seen here.
We waited for 20 minutes or so for the prize distribution ceremony to take place but the people incharge couldn't decide where to put their stage. They kept changing its place in the ground sometimes for sunlight, sometimes for back ground and at others for nobody knows what reason. We then decided to call it a day at the stadium and go home. We walked out to the stadium road, stopped a rickshaw and went home. This rickshaw was a 'supersonic' rickshaw and I made a video of the ride. But I'll save that story and video for another post at ATP.
Following photo shows the front facade of the Stadium. I took this photo as we were leaving the stadium.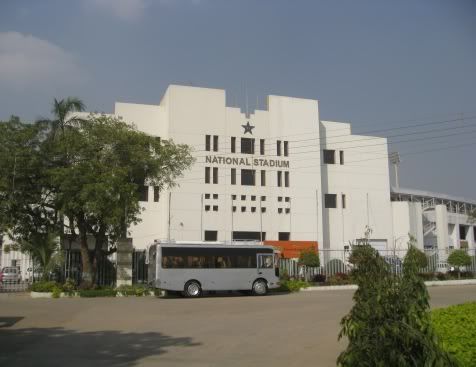 I was following this final match for the past three days and I was happy to see commentator Mirza Iqbal Baig on Geo Super. Mirza Iqbal used to do Radio programs on cricket since 1980s and I believe he is among the most knowledgable cricket commentators of Pakistan. He not only remembers several records and trivia about cricket but also has the knowledge about cricketers themselves.
Yesterday I was also happily surprised to hear TV Actor Sajid Hassan in the commentary box. Sajid played club cricket for Ibn-e-Insha club in Block W of North Nazimabad as well as for the ShowBiz XI. His comments were both humorous and full of cricketing knowledge.
Following photo shows the view of National Stadium's Southern and Western enclosures.