Owais Mughal
Clicking on most of the photos here will take you to their source and larger image size.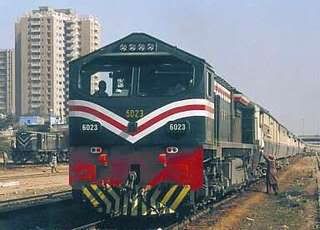 It was August 1992 and the second year exams at NED's Electrical Department had just finished. To celebrate the big relief that came after hard work of many months, my friend Umar and I decided to go to Northern Pakistan for vacations. On the day of departure we reached the cantonment railway station. We had first class seats resrved in Tezrau (fast current) express. After we settled down in our compartment and looked around, we found some interesting co-travellers. They included an all-obese family of Karachi, going Muree for vacations. Then there was a Khan of Gilgit going home. He spoke very funny e.g. when he tried to describe a short and healthy person on the train and said:
" woh hai na….woh chota waala, mota waala" (You see him…. that small one and healthy one)
Then there was this fruit lover person sitting next to us. He sampled fruits from each and every vendor that came on the train. In a day's journey, he almost ate a garden full of fruits. So much so that before our train reached Rawalpindi he had developed food poisoning.
We also had two poet brothers as our companion. All through the journey they kept reading poetry books and occassionally moved their heads from right to left in ecstasy. This was the sign that they understood a 'sher' (couplet).
As soon as the train pulled out of Karachi suburbs, the ticket checker came in. As always, our university had not issued us our second year ID cards on time. We were using student vouchers to travel and had first year ID cards which had expired a year ago. When ticket checker came, we had hard time explaining to him that we were current students and it was a norm that we didn't get our current ID cards even a year after passing the exam. I still remember ticket checker's dialog:
"Aaj to choR raha hooN, magar aainda aisa na karna" (I am letting you go today, but don't do it again)
I wish the university registrar can read this text and feel the embarrassment that we had to face in front of the fellow passengers. Some of them were now openly giggling and others were showing mock sympathy by watching everything and then asking naively:
betay kiya hoa? (what happened son?)
We had soon put all of this behind us. After the train passed Jung Shahi station, we became friends with the families and people around us. The family of heavy wieghts soon got to their eating business. They invited us to join in lunch with them and we readily accepted their cordial invitation.
After a 32 hour fun of not-so-tezrau express we reached Rawalpindi. After a good rest of two days in Islamabad, we took a Toyota Hiace service to Mansehra. The photo to the right is a birds eye view of Mansehra city.
For those of you who are familiar with Pakistan's road transportation system of early 1990s, the bigger your vehicle was the later you reached your destination.

Therefore a Toyota Hiace (shown in the photo to the left) was the fastest mode of transportation. Next came Toyota Coaster and the slowest ones were long Hino-Pak buses. Even though Toyota Hiace was the fastest way to commute on Pakistani Highways, there was no guarantee that one will reach the destination.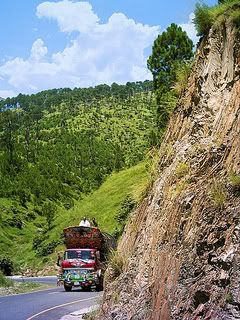 The English phrase of 'better be late than never' is best applied on Pakistani buses. Anyway we kept reciting the 'safri dua' (travel prayer), 'ayat-ul-kursi' (A prayer to keep bad spirits away) and 'jal tu jalal tu' (A rhyming praise of God). The bus driver took a short cut through Taxila, Heavy Mechanical Complex, Khanpur Dam, Haripur Hazara, Abbotabad and we reached Mansehra in just under three hours. The Abbotabad-Mansehra road is part of the famous N35 highway commonly known as the Karakoram Highway (KKH) and hence the road quality is very good (shown in the photo to the right). It took us only 25 minutes to cover the 24 km Abbotabad-Mansehra section.
From Mansehra bus stand, we rented a yellow cab and went to our class fellow Azad Khan's village which was an hour's drive on Mansehra to Uggi Fort road. I forgot the exact name of his village. The yellow cab we rented got a flate tire. Photo to the left shows this event where our cab driver is seen busy replacing the flat tire.
The village elders in Hazara area are called Maliks. This taxi driver took us to the Malik of Azad Khan's village who happened to be Azad Khan's cousin too. Here we got the first taste of legendary hospitality of this area. Before asking who we were and why were we there, we as well as the taxi driver were presented with huge aluminum glasses full of 'Lassi'. This Malik was like God father of the area. He was smoking Dunhill brand and was talking with a voice full of authority.
After learning that we had come to meet Azad Khan, he sent us to Azad's home in the village. Azad was not there. He had gone to Abbotabad for the day. We were showed our rooms in the 'Haveli' (big ancestral house) where we slept till evening until Azad Khan arrived.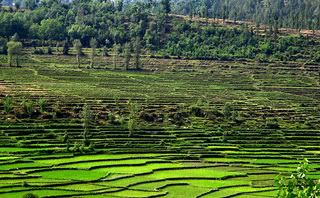 The photo to the right shows vegetation and fields arounds Mansehra area. Around dusk time we went for a visit of the area. Azad showed us around his village and showed us the two mountains full of timber forest that belonged to the village people. We learned that a timber forest matures in 50 years and when the trees are cut, a whole generation can reap its benefits but these days economic pressures are forcing 'Timber Mafia' to cut trees earlier and earlier. Nobody is waiting for 50 years anymore to let the trees grow full and hence a fast deforestation is happening in Pakistan's northern areas.
We had a hearty family dinner at night and then we retired in our rooms.
Next day we were ready to go to Naran. Naran is 125 km from Mansehra on highway N15 but in those days it was a good 6-hour long journey. Azad Khan and his cousin dropped us at the bus terminal in Mansehra, from where we once again sat in a Toyota Hiace. The Mansehra-Naran fare in 1992 was Rs 90. To enjoy the scenery Umar and I chose to sit on the front seats. Before we could be settled on our seats, bus driver put a young boy in front of us. The boy was apparently very poor and couldn't pay his fare, so the free rider was put on the front seat. One can now imagine how tightly we were packed. There was this bus driver, then he needed some room to shift the stick-shift floor gears, then Umar and I and this young boy were all packed on the front seats for 6 hours. If this was not enough the boy became dizzy and started vomiting as soon as the bus climbed curvy-twisty road of mountains.
Anyways right after Mansehra the scenery is so beautiful that we forgot all our pains and started enjoying the natural wonders of Pakistan. A huge deodar and Pine forest comes right outside Mansehra on the Mansehra-Garhi Habibullah road. The forest is called 'CHOR MOR' (the peacock thief). Some of the trees here were more than 200 feet tall.
Just before Garhi Habibullah, a road turns towards Balakot and the famous River Kunhar starts flowing next to the road. The raging water in River Kunhar beats its head against rocks and making loud roars flows down stream and falls into River Jhelum near Muzaffarabad in Azad Kashmir. The portion of the river before Kunhar, is called Nain sukh which means the Eye Soother. The river owes its name to the fact that the Mughal queen Noor Jehan who was on her way to the mountains for vacations got an eye sore. She washed her eye with the cool water of the river and her eyes became normal. Ever since the river is called Nain sukh or the one whose water brings relief to the eye.
Located at kilometer marker 40 on N15,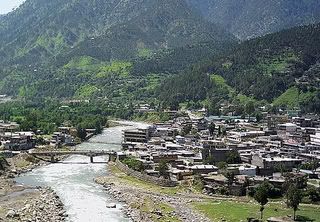 Balakot was the largest town on this stretch of road. I had visited Balakot in late 1970s with my parents and of course I was very young at that time and didn't remember much but on this trip, I made sure to observe each and every scenery and detail keenly and that is why I am able to recall it now. In 1991, Balakot was flooded by a deadly rise in water level of river Kunhar.
Some locals showed me shops/bazar on the ground level on both sides of Kunhar that were still damaged by the floods of previous year. In the deadly earthquake of 2005, I've heard that Balakot is there no more. The whole city got destroyed and now it is being rebuilt at a new location. The photo to the left shows a prosperous Balakot town before the earthquake and photo to the right shows total destruction of Balakot in the earthquake of 2005.
After Balakot, the road crosses the river and gains altitude fast and after a while it reaches so high that river Kunhar appears to be a very thin line deep down in the valley on the left side.
There are numerous water springs and water falls on this route. whenever our bus reached a water fall, the bus conductor used to rush towards water stream, bring water in a 'Ghee ka dabba' (A cooking oil box made of tin) and used to throw water on bus tires and also on the radiator to cool down the engine.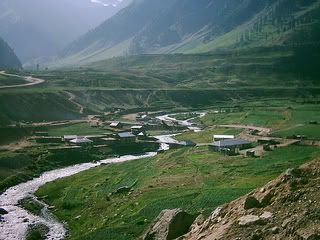 28 km north of Balakot is the town of Kiwai (N15 Km marker 68). The road climbs 1000 feet in these 28 km. From Kiwai, one can also view a 14000 feet high peak called 'Moosa ka Mussalla' (praying mat of the prophet Moses). I don't know why this mountain got its name after prophet Moses but it reminds me of this sher by Haq Nawaz Cheema:
Moosa se zaroor aaj koi baat hoi hai

jaane meiN qadam aur the aane mein qadam aur
A jeep track from Kiwai goes to the famous hill station of Shogran. The word Shogran means Forest in the Sky and very rightly so because at an altitude of 7500 feet, it is a top green forest covered resort.
We reached Kaghan valley around 3:00 p.m. Starting from Balakot, Kaghan valley is stretched for 155 km and when we visited, Kaghan itself was the last town, up to where asphalt road and electricity used to go.
In 1992, the 22 km stretch of road between Kaghan (N15 km marker 103) and Naran (N15 km marker 125) was totally unpaved. I've heard that now there is a metalled road built all the way upto Jalkhad (N15 km marker 170). The photo to the right shows the good quality of highway N15 which was built in late 1990s. When we visited the place there were quite a few glaciers blocking the road too. Passengers had to disembark the bus on some of them. Bus conductor used to tie a big rope in front of the bus and all the passengers had to pull on this rope like a game of tug of rope and pull the bus out of glacier.
The snow on the ground as well as on the mountains started increasing as we approached the Naran valley. We reached Naran around 5 p.m. At an elevation of 7963 feet and surrounded by tall snow capped peaks on all sides and with river Kunhar flowing right through the town, Naran is an un-describable beauty.
After reaching Naran, we checked into hotel Lalazar.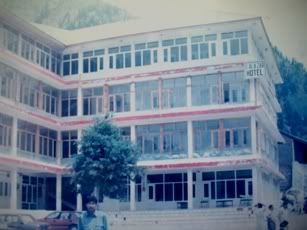 The photo to the right shows the facade of Hotel Lalazar. Rent for the room was then Rs 300. There was no electricity in the town then. Even though WAPDA had fixed an 11 kV distribution line and a few transformers, they were not energized then. Our hotel had its own generator that used to provide electricity for 5 hours a day only. Warm water for shower was also provided for a couple of hours only.
As soon as we checked into our room, we saw a huge spider basking on the carpet. This spider was more like a tarantula with its legs reaching good 6″ in each direction. I don't remember how Umar and I got rid of that spider but after that incident I was always scared of sleeping on the floor. I had a floor mattress in that room.
The air in Naran is very clean and very thin. While breathing you can feel your lungs are getting over hauled. It is a totally different experience compared to breathing diesel and carbon monoxide on M.A. Jinnah road in Karachi.
We had reached Naran on a weekend and it was like a mini gala there. People were coming from everywhere. We noticed car plates from all over Pakistan. Just 500 yards out of Naran town, there was a big glacier where almost every vehicle entering the town used to get stuck or at-least struggled. Our favorite past time was to walk up to a fast food tent, buy a couple of boiled eggs and salt and then walk to this glacier while eating eggs, and see how cars were getting stuck. We used to bet on which vehicle will be stuck and which will go through. And we were not so heartless all the time as sometimes we used to help the stuck vehicles too.
Government of NWFP (North West Frontier Province) had deployed a snow-cutting bulldozer there, which had a Khan driver. Apparently this guy had been working overtime. He was almost on the verge of nervous break down because of his never ending struggle against the ubiquitous snow. When a stuck car's driver tried to complain to him that Khan didn't do his job well, this Khan went totally ballistic and out came a flurry of such obscenities that I cannot write here. But Umar and I who were standing nearby were very amused at the situation. Umar and I still laugh about it whenever we meet. Photo to the left captured this situation. Look at the face expression of the woman in the car. She seems scared because the car is getting stuck in the glacier. The Khan driver clearing snow with the bulldozer is seen at a higher altitude.
Naran had a very romantic setting and the pretty ladies had converged there from all over Pakistan. We were wearing our usual head-to-toe Levi jeans attire but Naran downtown was big fashion place and we felt like a misfit. So one evening when we also decided to get rid of jeans and wear our best dress clothes, but when we took our clothes out of hand bags they looked as if coming out of 'Surahi' (an earthen water pot with a very small opening). Now there was no electricity in hotel so no ironing was possible. In the whole Naran town there was one laundry place. We took our clothes there. The 'Khan' there had a coal iron. He used to put red-hot burning coal in his iron, which then took 5-10 minutes to heat up and then iron our clothes. We were years behind from civilization in Naran and we loved it.
Anyways after we got our clothes ironed, we became big challengers in that fashion gala. Romance was in the air. Laughter was full of life and atmosphere was full of youthful energy. At night we used to sit on the roof of our hotel. The nights were starry and chilly. Sipping on cups of hot tea and listening to Vital Signs, who had just brought their second album out, we felt at real peace with surroundings.
The unpaved road that reaches Naran, continues north and after through Lalazar, Besal and Babusar Pass (13760 feet) it meets with Karakoram Highway near the town of Chilas. When KKH was not build this used to be standard route to reach Gilgit and Hunza.

Next morning Umar and I had a plan to visit the land of fairies: Lake Saif-ul-Muluk. From Naran it is almost a vertical climb of 3000 feet to reach Saif-ul-Muluk. A jeep track goes to the lake. We shared our jeep with some other tourists and headed towards Saif-ul-muluk. The jeep driver told us that life time of a jeep engine on this route is only a year. Every year they get the engine over-hauled for their jeeps, which cost them Rs 40000 and then make good money in summer season around Rs 65000 and then overhaul engine again in winters.
On way to Saif-ul-Muluk there is a huge glacier that has to be surmounted. Traffic remains stuck on it for hours depending on which season you are visiting. When our jeep got stuck there, Umar and I disembarked the jeep and started climbing on foot. That was one of the hardest climb ever for me. The trick of mountain climbing is to go slow and steady. If you try harder you'll be out of breath very soon because of high altitude. We proudly passed two Dutch ladies, which boosted our male ego because they were climbing slowly but very soon we were out of breath. These ladies at their own slow and steady pace not only passed us but when we finally reached the lake these ladies were already packed up and going back home.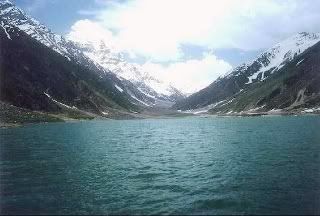 There are hiking tracks up to the lake and local children offer drinks at exorbitant prices to hapless 'shehri baboos' (City slickers). I drank a 'falsa' flavored juice after paying Rs 13 (regular price was Rs 6 in those days). I was so tired and that juice was a life saver.
The best thing about 'Saif-ul-Muluk' is that for 98% of the climb you don't see any glimpse of the lake. All you can see is mountain peaks every where and one keeps wondering whether it is worth climbing so much but then after a 3-4 hour climb you turn one corner and this lakes suddenly comes into view. Cradled between high peaks, the view of lake is so breath taking that one forgets all the pain of climbing for hours. The Lake itself is at an elevation of 10537 feet above sea level and at its backdrop is a very high mountain called 'Malka-e-Parbat' (the Queen of Mountains). Its peak is at an elevation of 17356 feet.
The photo to the right shows my friend Umar enjoying at lake Saif-ul-Muluk.
The legend behind the Lake is that Saif-ul-Muluk was the name of the Crown Prince of Persia who heard about the beauty of the fairy princess Badar Jamal, the daughter of the king of Caucasus, and fell in love. The prince, after much wandering and hardship, succeeded in finding the princess, taking bath in the lake. The not-so-reluctant fairy princess fairy promised to be Saif-ul-Muluk's wife. The fairy's demon lover, however, appeared in time to see the happy pair together and in a fit of jealous rage flooded the entire valley with the lake. Some people say that they have left the place, while others insist that in the still of the night they still come to put their revels on the grass and bathe themselves in the stream, and woe the mortals who encounter them.
A natural spring in the lake oozes water that not only forms this lake but also gushes tons of liters of water into a vertical stream that later falls into River Kunhaar near Naran.
We stayed on the lake for a couple of hours, took photos and then came back to Naran in the evening. Lake Saif-ul-Muluk was indeed the high point of our tour.
After coming back to Naran we ordered 'daal' (lentils) in a hotel and got the first hand experience that due to less atmospheric pressure at hill stations, "kisee ki daal nahi galti" (nobody's lentils get boiled). That lentil dish was as hard as pebbles and one for sure needed a very strong stomach to digest it.
One more interesting thing in Naran is the Post Office building. We were very impressed to see Pakistan post office delivering mail in such far-flung areas. I have heard that facilities in Naran are much better now. A paved metal road has been built from Kaghan to Naran. Electricity is there. Hotel industry has improved too. Now there is a daily Helicopter Safari between Islamabad and Shogran. Mountain biking is also available in Naran area.
Another very famous thing about the area is the trout fish that is found abundant in river Kunhaar. Fishing licenses at that time were available from Pakistan Tourism Development Corporation (PTDC) motel in Naran
I do wish that one day I'll visit the paradise called Saif-ul-Muluk again and God bless the pristine unspoiled beauty of Pakistan