Adil Najam
This headline is sensationalist. 3 inches of rain does not make a 'Katrina.' Why, then, does Pakistan's largest city look like it does?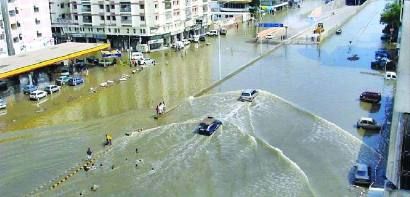 Rain has brought near mayhem to Karachi. Just to look at the telegraphic headline details leaves the head spinning:
Rain-related death toll in Karachi reached to 26.
Most of the victim died by electrocution.
Military police called to control the relief work in the city.
Govt. announced holiday in Karachi and Hyderabad on Friday.
Power supply, telecommunications, and mobile systems disrupted.
Severe traffic jams as many vehicles stuck.

A headline in Dawn (19 August, 2006) screams: "Flooding ruins all vital thoroughfares" and points out that:
… Rafiqui Shaheed Road, which houses four major hospitals (JPMC, NICVD, NICH and Kidney Centre), has been completely devastated by the current monsoon rains and flooding, yet the Faisal Cantonment Board has not yet bothered to undertake the patch work to fill the deep ditches and potholes all along it.
And here is what it looks like, as seen on Sindh TV. Double click on arrow at center, or view it directly here:
Listen especially to the citizen comments in this TV report. As one person say, "its been 60 years… they can't event build a drainage system, and they talk of building an elevated highway." Note the despair in the voice of the people.
Another headline in Dawn (19 August, 2006) shouts: "Defence, Clifton stink with stagnant water":
The stinking stagnant rainwater in Defence and Clifton continued to cause miseries to tens of thousands of people…. The Gulshan-i-Faisal in Bath Island was again the worst-hit where knee-deep to waist-deep filthy water wreaked havoc on roads and streets, forcing the residents to remain indoors without potable water as rainwater streamed into their underground water reservoirs. Dr Shahab Osto, a resident, said the entire locality was flooded by rainwater which instead of receding continued to increase with the passage of time on Friday though the city did not receive a single drop of rain. Nehr-i-Khiyam is blocked and the rainwater is being redirected to our area, he said. Dr Agha Hameed, another resident, their locality had been cut off from rest of the city. "No vehicle can go out or come in the vicinity due to waist-deep waterâ€Â?, he added. He urged the authorities to supply drinking water to the trapped residents as all shops and general stores nearby are closed.
This despair is articulated in this editorial in Dawn (19 August, 2006):
Thursday's heavy rain and the rainfall a few days ago have thoroughly exposed all the city's civic warts. Many roads were in knee-deep water. The main traffic artery, Sharea Faisal, was totally choked for hours with traffic going out from downtown. Buses were stranded. People stood in the middle of roads, away from the water pools on the sides, in the forlorn hope of getting a lift. Some people reached home well past midnight. Cars stalled all over the city, and both functioning and under-construction underpasses were again flooded. Police and city government officials were at sea about how to go about controlling the chaos. If it had not been for scores of ordinary Karachiites who came out of their houses to help traffic move and warn off motorists from the more dangerous water traps, the situation would have been far worse. Things sorted themselves out only when the rain stopped and a weak sun came out on Friday morning.
Why is it that we are caught unprepared every time we have an emergency like this on our hands? Fifty-six millimetres of rain doesn't constitute an emergency, and yet we had this civic breakdown in Karachi. There is of course a whole history of lack of planning, bad planning, corruption and sheer inefficiency behind the existing urban mess, which becomes more difficult to tackle as time passes because of the increasing population, allowed to grow unchecked by governments. But more than anything else, it is the lack of concern for the ordinary citizen on the part of governments and politicians that is responsible for many of our woes.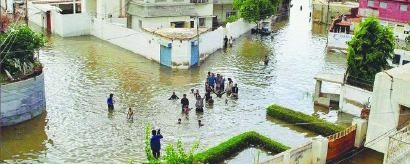 But it is The News (19 August, 2006) that hits it on the head by pointing out, quite simply, that the death, destruction and mayhem is not just unfortunate, it "borders on the criminal."
Photographs from Dawn; first from Karachi, second from Hyderabad.