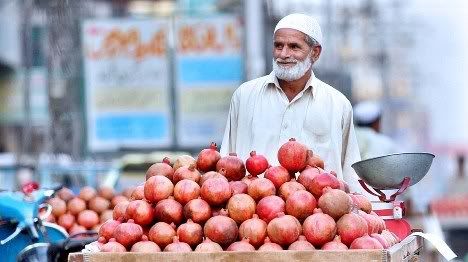 Among many things that Pakistan has been blessed with, the quality of fruit is an important one. Especially worth mentioning is the Pakistani pomegranate. It is hard to find a rival of it in size, flavor and color. I've collected few photos of pomegranates and its juice for sale in Pakistan here. Take a look and be a part of this famous urdu idiom: 'ek anaar, sau beemaar' (one pomegranate can make a hundred people devoted to it)

I chose following two photos because of their color. The yearning of savouring the taste of an ice cold pomegranate as shown in these photo is hard to resist. Those who have tasted a pomegranate like such will join me in saying that 'ek baar khaya hai, aur dobara khaane ki hawwis hai' ( have eaten once and yearning again)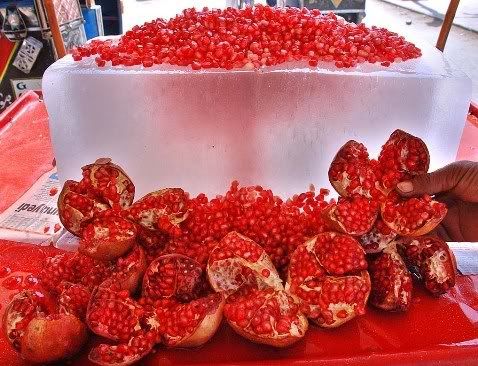 It is said that best variety of pomegranate in Pakistan is called Kandahari anaar, and is imported from our Western neighbor. It is also grown in Pakistan – mostly in Balochistan. In 2007, Pakistan exported more than 4500 tonnes of Kandahari anaar from Pakistan. On the origin on pomegranate tree itself, it is said that Pomegranate came to Pakistan from Iran, where it was a native plant specie.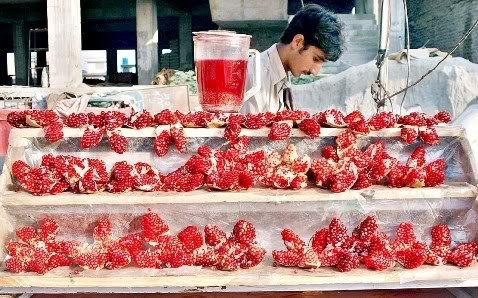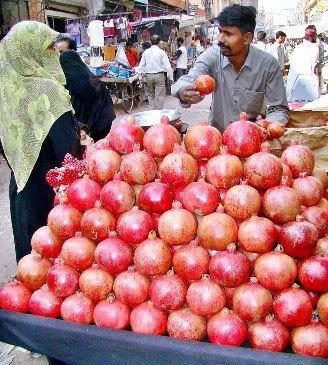 The photo to the right is from Tower Market Road, Hyderabad. Note the size of pomegranates in this photo. These are one jumbo pomegranates.
Pomegranate is not only a part of Pakistan's important fruit species, but over the years it has also influenced on art, literature, language and poetry. When a person has healthy beautiful cheeks, they are compared to a pomegranate.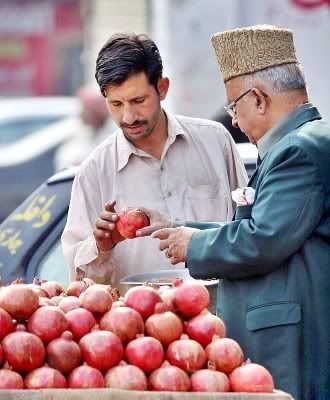 The photo to the left is from Rawalpindi and it shows an old timer choosing a pomegranate at the vendor thela(cart).
Flower bud of a pomegrante is called 'anar kali' and one of the most famous movie character coming out of India-Pakistan's was named Anarkali.
The dried seeds of pomegranate called 'anar daana' are extensively used across Pakistan to bring a bit of sour taste to the food.
And since I am writing this post without putting much thought to the order of essay and only concentrating on something in praise of a Pakistani anaar therefore the next thought that comes to my mind in support of a Pakistani anaar is how every Urdu book starts with the first alphabet as 'alif se anaar'. Look to the image to the right. bus ab aur kia likhooN anaar ki tareef meiN
Quetta ka anaar:
Here is atleast one sher in Urdu which makes use of 'anaar'. Enjoy this ghazal by Anwar Masood and keep an ear open for the sher with the words 'Quetta ka anaar'. This ghazal as most of our readers may already know is a parody of a famous ghazal by Momin Khan Momin.