Asma Mirza
Time was changing when I opened my eyes to this world; everything seemed to be going 'online'. But still it was not that bad – we still were living our offline lives too. It was time when stamp collection, reading books in their 'hard copy format', gaming (offline) with hands and feet involved, making scrap books, collecting dolls, coin collection were few of the more common hobbies instead of chatting, surfing online and downloading music.


I inherited not the coin collection hobby but the coins themselves from my sis (and probably my parents too since she cannot collect coins issued years before her).

I remember years back when someone would come from any foreign land me and my siblings' would surely ask for some coin tokens to add up in our collection. And it used to be great time of pleasure for me to open up my sis' stamp and coin collections whenever she was away, as a feast.
To date, State Bank of Pakistan has issued numerous (and many uncountable too) coins of different denominations; from Takka to Paisa, 5 paisa's to 50 paisas's and then quarter rupee to 5 rupee coin. Since, I've a 100 Rupee coin too; so I guess, as commemoration, larger denominations in fewer amounts were issued too. Interestingly, whether 25 paisas or 50 paisas, the term Paisa was more popular, but I came across a 10 Pice too issued in 1961. I guess people were more comfortable with paisa than pice! Quarter rupee or 'aadh pao' was an interesting term too :)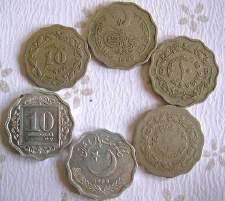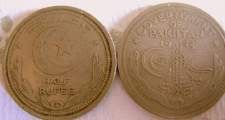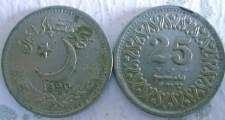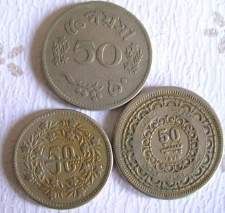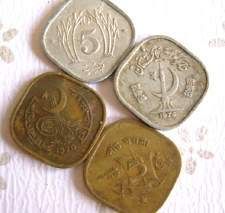 English, Urdu, Bangla and Arabic are some of the main languages inscribed on these coins from time to time. With language, size and shapes also saw no restrictions but the rounder coins remained the most popular with issuing authorities.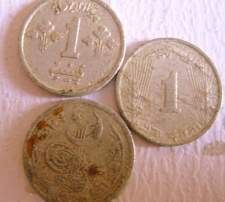 In the 1970's and 1980's the one rupee coin was of much better size than today's 5 rupee coin and the value matters too (Ouch at Rupee devaluation).
Coins were used as phone tokens too back in time till early 80's – now the calling cards rocks. While I was looking for coins online, I found an interesting site showing off real ancient coins such as this billon, issued in 1200's by a Sindh ruler, with a horse embarked on it and even a coin from Akbar's time too.
The oldest coin, I have, is from early times of Pakistan i.e., 1948. Other notable coins are the ones issued to commemorate 100th birth celebrations of Quaid-e-Azam Muhammad Ali Jinnah in 1976 and Allam Iqbal in 1977, Islamic Summit conference 74, Beginning of Al-Hijrah in 1401 and even one coin with the slogan that "Pedawar Barhao" jo aaj tak na barhii!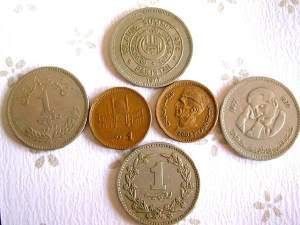 For some reasons, amongst most Pakistanis, metallic and plastic money is still not popular; it's more of a burden than ease.
I wonder if, over time, our coins would come cherished as collectable items some time. After all, in countries like USA, UK, Canada, rare coins, stamps and even game tickets are sold for hundreds of dollars, and more!
Asma Mirza blogs at FunInLife and also at Metroblog Islamabad.