Islamia College Peshawar, or ICP for short, is one hundred years old.
That is, if you count from the year the idea of the college first sprouted in the minds of its founders, in 1909. The work on the building started in 1912 and, within a short period of time, the main college building along with a high school and three hostels was completed. The college was elevated to a university in 2007.
When one looks at the faded, old black-and-white pictures of the college taken at the time, one can't help noticing the stark contrast between this amazingly beautiful building, built in copper-colored bricks, in British-colonial-"Mughal" style, and the surrounding empty area – almost wilderness – stretching right up to the mouth of the Khyber Pass. It is as if the building was delivered, overnight, by a genie to grant a boy's wish in a fairy tale.
Who was the boy in this fairy tale and who the genie? It is difficult to separate the two.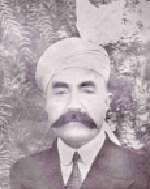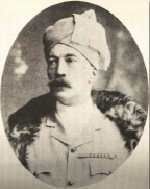 Actually, there were two 'boys', one a British and the other a native, both in their forties, who, after making their wish, which was not much different than a child's fantasy, transformed themselves into a powerful duo of genies and delivered this treasure of a building and an outline of a concept.
The former was George Roos-Keppel, a 'soldier-sahib', that peculiar breed of British officers in India whose careers crisscrossed between army and civil service and who, during their long stints in the frontier regions, got to understand the native people so well that their relationship developed into one of mutual respect and admiration. Roos-Keppel was a three-times Chief Commissioner of the province (equivalent of governor) between 1908 and 1919. He not only spoke fluent Pashto but also wrote books on Pashto language and grammar.
The other 'boy' in the story was Sahibzada Abdul Qayum, a native Pashtun. He started his career as a naib tehsildar and, through diligence and loyalty, after serving in different districts and tribal agencies became Political Agent of Khyber. After retirement from service, Sahibzada joined politics, and became the first chief minister of NWFP, in 1937, but his government lasted only a few months before he was replaced, through a no confidence vote, by Dr. Khan Sahib. But that is different story.
The Keppel-Qayum was a synergic combination of two individuals. They had the vision, drive and the influence to raise the required funds for their project. The names of these two individuals are, today, synonymous with ICP just as Sir Syed's is with Aligarh Muslim University. Their life size paintings hang in the main college hall named as Roos-Kepple Hall.
The college was conceived as a liberal arts college emulating the Aligarh model. Among other things, the student uniform for ICP – black shirwani and white shalwar – was an import from Aligarh.
A liberal arts college, by definition, is a college that follows a curriculum aimed at imparting general knowledge of social and physical sciences and developing intellectual capacities of students, as opposed to a professional, vocational or technical college.
The college emblem had the inscription "Rabb-e-zidni ilma" (O Lord, enhance me in my knowledge), which, later, in a copycat fashion, was copied by many private schools and colleges.
Notwithstanding the prefix 'Islamia' in the name, ICP was not meant to give a higher priority to religious studies over social and physical sciences and languages that formed the core of college curriculum. The only religious instruction was a weekly class of Islamiat taught by Nurul Haq Nadvi, popularly known as Dean Sahib, for he was also the Dean of the Faculty of Theology. This was a separate faculty for students who wanted to specialize in Theology. The Islamiat class was held in the beautiful college mosque.
Dean Saab, over the decades he served the college, came to symbolize what Islamiat meant at ICP. It was basically "ikhlaqiaat", or etiquette and morality. Many of the alumni may not remember the names of some of their professors but no one seems to forget Dean Saab. And every one has a story to tell about Dean Saab. Unlike the present lot of maulanas of different stripes, who wear a permanent frown on their face, Dean Saab wore an easy smile, a short and tidy beard, a round karakul cap and sherwani and a shalwar. In the afternoons, he was seen on tennis courts, in white trousers (pants) and white shirt (standard tennis attire those days), playing tennis. Dean Saab had a delightful sense of humor and could laugh heartily. He never talked of divisive religious issues. If he did, none of his students remembers it.
He was a keen observer. He would observe the students and their lifestyles during the weekly inspection tours of the hostels and comment on them during the Islamiat class. Two of his lessons, among many, that are etched in my memory because of not what they were but how he told them, in his inimitable style: One, don't display your portrait in your rooms or on your tables. (Hostel rooms were also your sitting rooms where you received friends and guests. Some students were so fond of their own portraits that they used them as the central piece of decoration in their rooms). He didn't say it was in bad taste or it was narcissist because that would be too mild a disapproval or the students would not understand it. He said it made the room look like a barbershop. Everyone understood that. Another lesson: never brush your teeth out in the open. (Students had a habit of walking around in the verandahs in the morning brushing their teeth). It makes you look like mad animals foaming at the mouth. Do it in the washrooms – and don't gargle loudly as if you are throwing up. These were his sermons. Of course, he talked about the essential history of Islam and the importance of other rituals but his sermons, if we can call them that, were most interesting when he talked of day-to-day human behavior.
When I consulted the official website of the college recently, it said, among other things: " … the college is culmination of beautiful traditions of Aligarh and Deoband." Not true!
There is no evidence of Deoband either in the conception of the college, its curriculum or its practices. At least, there was none not until 1970. It seems someone is trying to distort history. And, by the way, combining Deoband with Aligarh sounds too incongruous. To my knowledge, the two were the opposites of each other.
I checked some of the facts with my friend and roommate in Hardinge hostel, Mian Jameelur Rahman, a banker by profession. He is a goldmine of information with an excellent memory for names and little incidents. He, too, denied any Deobandi influence, overt or covert, in the college, and added, as proof, that out of the 50 or 60 odd students in our hostel, only one student wore a beard, and two regularly went to the mosque to pray. There were no "vice and virtue squads" implementing morality. There were only college proctors who ensured that when students went to town to watch movies or to cafés, they wore the college uniform and didn't get involved in any unruly behavior, and that they were back in their rooms when the "sign hour" bell rang at 7:30 PM in the winters, and a little later in the summers. Other than that, everyone did as he pleased.
Another friend and classmate, who serves the government in a responsible position, told me this: One of the first-year students, a "day scholar", soon after the Physical Training class in the morning, walked into the mosque for the Islamiat class in the same dress — shorts and a shirt. Not out of defiance or mischief but sheer ignorance of the rules. He was too new to the college and had an English mother. Dean Saab gave him a quizzical look and said, "Bachiya, za, nan sta chutti da, o bia uniform ke raza." (Son, take the day off today, and next time come in college uniform). There was no anger in his admonition, only amusement. When the boy left, Dean Saab, rather impishly, told the class that bare legs could be distracting for the class. The boys simply broke into laughter.
We went to the Islamiat class for such nuggets, not for angry sermons.
No sir, ICP had nothing to do with Deoband. It was a liberal arts college, and one hopes it remains just that.
Note: A slight variation of this article appeared in The News of November 16, 2009.