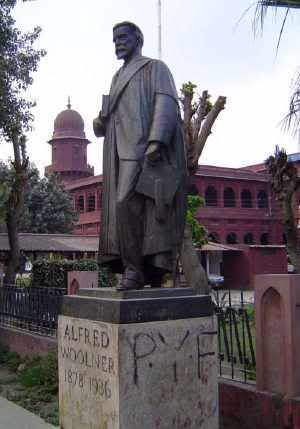 Adil Najam
Our friend Darwaish posted this picture at Metroblog Lahore claiming that it is the very last statue of a human figure standing at its original location in Lahore (outside the 'old campus' of Punjab Univeristy).
I have no reason at all to doubt his claim and am fairly sure that he is, in fact, right. But I wanted to check with our readers if this is indeed so. Do you know of other statues; in Lahore or elsewhere?
(I recall that discussion on an earlier post about a Gandhi statue outside the Sindh High Court that now stands in the Indian High Commission; and someone on Lahore Metroblog hinted that now there are many new statues all over the major cities – mostly of Ronald MacDonald and Col. Sanders of Kentucky Fried Chicken!).
This statue, by the way, is of Prof. Alfred Woolner who was a long-serving professor of Sanskrit, as well as vice-chancellor of Punjab University between 1928 and 1936.
Being in the same profession as Mr. Woolner, I am intrigued by this picture at many levels. For example, it is ironic that the statue of a professor has been vandalized by what seems to be a student organization of some sort. Whatever this may or may not tell us about the state of statues in Pakistan, it also says a lot about the respect that professors once held in our society and now do not.
Only yesterday, Mast Qalandar was writing in these columns about Islamia College Peshawar and the discussion led to a conversation on the contribution of Prof. Hubert Michael Close, one of the College's remarkable professors. We have, of course, also been talking recently of cheating professors at Punjab Univeristy. One wonders if there are still professors in our colleges and Universities who are revered as Prof. Woolner here, or Prof. Close at Islamia College, were.
I have a tayya (uncle) who alway very proudly, and rightly proudly, tells me that his teachers were Sufi Tabassum and Faiz Ahmad Faiz. I know there are still many who should be revered and who excel at the craft and art of teaching. Yet, do we as a society even think that teachers are worthy of respect? And, can a society that does not respect teachers, even be considered respectable?