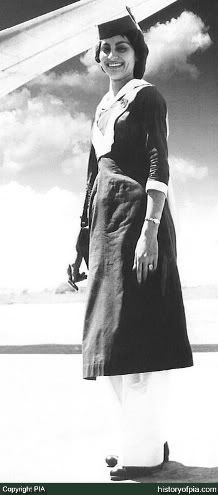 On May 20, 1965 Pakistan International Airlines Flight PK705 from Dhahran was descending on the runway of Cairo airport. This was PIA's inaugural flight to Cairo. 119 unfortunate people onboard died.
Among the victims was PIA's trend setter air-stewardess Momi Gul Durrani.
At ATP we have done a number of posts of PIA – both on its high-flying early years (here, here, here) and its more troubled recent years (here, here, here). If ever there was a "Face of PIA," it was Momi Gul Durrani. No PIA personality, with the exception of Air Marshal Nur Khan (who, in fairness, was already a celebrity before he came to PIA) has ever achieved such public recognition, affection and fame as Momi Durrani did.

Quoting from the Mr. Abbas Ali's website History of PIA:
Momi was one of PIA's highly trained, professional and hard working cabin crew members of 1950s and 1960s. She was tall, fair with film-star looks. In short period of time she gained immense popularity and achieved status of a bright star and a legend in PIA's glorious history.
Omar Kureishi, while writing an article in Dawn of March 30, 2003 recalled Momi in following words:
(For the inaugural PIA flight to Cairo) We had our VIP cabin crew including Momi Durrani, a Pathan girl, tall and fair with film-star looks. We had featured Momi in our advertisements. When she smiled, she made others smile.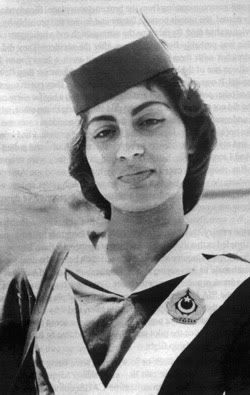 In the first two photos, Momi Gul Durrani is seen in 1950s uniform of PIA. Once again quoting from website History of PIA (re. the first photograph):
This photos shows PIA's legendary Air Hostess Momi Gul Durrani in 1950s uniform. This uniform was designed by Frenchman Chausee Fortaignelle who was with PIA on a 5 year deputation from Pan Am. In this design a white shalwar and dupatta were set off by a green shirt with white cuffs and collar. Shoes and bags were black. The most interesting item of this uniform was a jaunty green cap for the hostesses. This uniform design was used from 1955 to 1960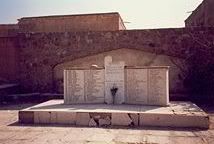 Photo to the right is the monument (graves) of 119 fateful passengers of PK705 in Cairo, Egypt.
Note: As written above, PK705 was an inaugural flight in a sense that it was the resumption of Karachi-Cairo service which had been suspended for many years until the fateful day of May 20, 1965.
References:
(1) History of PIA by Abbas Ali
(2) Dr. Ghulam Nabi Kazi's Photo Selection at Flickr.com
(3) The Cairo Crash by Omer Kureishi
(4) Photo of the PK705 memorial is from Wikipedia