It was summer of 1986 in Karachi, when satellite dishes were unheard of and people used to put Aluminum dishes to get better reception of the 'neighboring' Television channels. I was also one of those who would always try put some wide aluminum plates to get the signal of Doordarshan. We used to envy Lahoris who are so close to the border that they easily view the transmission of our neighbor.
On one of the days we got good reception and guess what was coming through? It was an Urdu Mushaira. I was a school going kid and was not very much interested in viewing these shows but then for some reason I decided to sit and watch as there was always some curiosity with the "Foreign TV Channel". The mushaira was being relayed from Hyderabad Deccan India and then I heard a person who started reciting his poetry in tarranum with the following lines:
"dohay keh keh kar Aali mann Ki Piyas Bhujhay".
His voice mesmerized myself and all the Hyderabadi audience. At the end of his segment, I saw the audience gave him thunderous applause. Then I was told that he is the same Jamilluddin Aali whose songs we always love to sing and recite on national days i.e. Jeevay jeevay Pakistan, and many more.
Born on January 20, 1925 in Delhi into a literary family (his lineage goes back Mirza Asadullah Ghalib), Dr. Nawabzada Mirza Jamiluddin Khan Aali embarked on his poetic journey at an early age. As most Urdu poets do, he began with the ghazal (lyrical poem). He drifted to the doha (poem describing a whole idea in two lines) when barriers were erected between him and the girl he loved and wanted to marry. Unlike Majnoon, Punnoo, Farhad, Ranjha and other Romeos, he was fortunate enough that the issue got resolved amicably and he tied the nuptial knot at age 19 when the bride was over 25 years of age. The two, blessed with three sons and two daughters, have been living happily since.
The photo below is from 1967. This was a corner meeting of writers before convention at SMCHS-Karachi office of Pakistan Writers Guild. Seen in the photo are Obaidullah Aleem, Professor Jamil Akhtar, Professor Mumtaz Hussain, Jamiluddin Aali (standing), Ibn-e-Insha and Pir Hisamuddin Rashdi.
He passed the CSS examination in 1951 and joined the Pakistan Taxation Service. His career saw many ups and downs and he joined the National Bank of Pakistan as its vice president in 1967 and retired from it as its senior executive vice president in 1988. His poetry, however, found a renewed stimulant when he took a fancy to a boy, who grew up to be a senior police officer and died from cancer in his lap. Tears welled up in Aali's eyes while he described the day when the dying man's mother telephoned him to be with her son at his dying moments.
"People say what they may, but there was nothing carnal or immoral about it. I loved him intensely and wrote couplets about him. I even dedicated one of my books to him."
This makes his poetry unique even in these times of modernity where "Azaad" poetry is much more common. Some of those words are even obsolete in the current lingua franca. In poetry, Mr. Aali has been an innovator par excellence, in so far as he has revived the classical form of doha and adapted it into Urdu imparting a distinct South Asian Muslim cultural flavour while retaining its beauty. Besides doha he has also written ghazals, poems, lyrical ballads or geets and patriotic songs. His long poems reflect a unique discourse on great Scientific and Philosophical themes, blended with aesthetics. At mushairas Aali recited dohas in his melodious voice, which became instant hit and made him one of the most sought-after poets at poetry recitals. His Dohas do have a tinge of Hindustani Language and also the rural Urdu dialect which is still being spoken in parts of North India.
Following photo is from Harvard University, Boston in 1962. Aali saheb is 3rd from the left. Henry Kissenger is 4th from the right.
'Insan', a poem containing some 7,500 lines, is the latest feather in his cap. "Some 2,500 lines were censored out." Critics find it as an unusual feat of perseverance and hard work. He says people might take a few more years to study and understand the merits of this poem. His poetry collections include Ghazlain, dohay, geet, Lahasil, Aye meray dasht-i-sukhan etc which also contain his popular national songs such as Aye watan kay sajeelay jawano…, Aye mao, bheno, betio, …. and jeevay jeevay Pakistan, sung by Shehnaz Begum.
About jeeway jeeway Pakistan
During the 1965 war, the Chairman PIA then approached Jamiluddin Aali to write something focusing on integration of East and West Pakistan as problems had started arising between two wings of our country then. Jamiluddin Aali then wrote 'Jeevay Jeevay Pakistan', which was recorded by the then PIA Arts Academy under Hameed Nasim. But politics held back the song till it came in July 1971 when Ishrat Ansari of PTV-Karachi Studios called in Shahnaz Begum and requested Sohail Rana to compose the music. Finally, the song was ready and released on PTV on 14th August 1971. The song has managed to stay in the hearts of thousands of Pakistani's to date, there is no child, adult or anyone who has at some point lived in Pakistan and does not sing along to 'Jeevay Pakistan' when it is aired every year on the 14th of August.
– The News
Here is the 1972 video of Aali saheb's most popular national song 'jeevay jeevay Pakistan' sung by Shahnaz Begum
Moved by the plight of the prisoners of war following the 1971 war, he composed Aey des ki hawaoin, sarhad ke par jao in 1972.
As the world celebrated Women`s Year in 1976, Aali composed Hum ma-ain, hum behnain, hum baiteyan – a song that was banned by the Zia regime and was subsequently employed to good effect by the Benazir government.
In 1986, Aali wrote a song, Jo nam wohi pahchan, Pakistan, at the request of former president Ghulam Ishaq Khan.
In 1996, he composed another national song, Mera inam Pakistan, for the celebrated singer Nusrat Fateh Ali Khan.
In 1999, former prime minister Nawaz Sharif got him to write a national song, Yaum-i-amn-o-baqa.
He has visited many countries and written travelogues about three of them, including Iceland, a country no other writer from the subcontinent has written on. He has been writing a weekly Urdu column for over 45 years and the columns have filled several volumes. These columns have been a great source of information since those are so well researched that you can find various topics of philosophy, history, literature technology in those columns which is very rare among the Urdu Columnist.
He has written prefaces to books published by the Anjuman and their number has crossed the figure of 250, most of them published in four volumes. At least eight theses and books have highlighted his literary achievements.
Under the aegis of this very Anjuman he was associated as Honorary Secretary for 12 years and Honorary Administrator for three years with the Urdu College, which evolved into two prestigious institutions.
Photo to the right shows the foundation laying ceremony of Urdu College in 1964. President Ayub Khan and Aali saheb are in the photo
The Urdu Science College (now Urdu University – where all subjects upto the level of Masters are taught in Urdu) building was raised during Mr. Aali's tenure. He was highly instrumental in growth of the English-Urdu Dictionary of baba-i-Urdu Dr. Moulvi Abdul Haq and in the arrangement and publication of some rare manuscripts and great classics has been one of Mr. Jamiluddin Aali's main passion.
He is one of the principal founding fathers of the Pakistan Writers Guild during the Ayub Khan era along with Qudratullah Shahab which has a membership comprising men of the letters of all Pakistani languages. Mr. Aali has been constantly devoted to services for the welfare of indigent Pakistani Writers and the bereaved families of those who are no more.
Mr. Jamiluddin Aali as an expansion of his activities also entered the field of practical social science. He has been a Senator from Sindh in the upper house of parliament where he was also elected as Chairman of Senate's Standing Committee of Education, Scientific and Technological Research.
The many awards he has received include the President's Pride of Performance, Hilal-i-Imtiaz, Canadian Urdu Academy Award, Sant Kabeer Award and Kamal-i-Fun Award. Besides, he has received honorary D.Litt. degrees from a private university and the University of Karachi.
He has a huge collection of photographs with a number of renowned personalities, and even with JFK and at a gathering in Harvard where he used to wear Jinnah Cap and even as of today he religiously follows it. In these troubled times which Pakistan is facing on various fronts, he is a optimist to the core.
The photo below is the occadion of Pakistan writers guild's 10th anniversary on January 31, 1968 at Hotel Metropole, Karachi. Jamiluddin Aali, Secretary PWG on mike with Shahid Ahmed Dehlavi on his left followed by Hafeez Jallundhari (who wrote Pakistan's National Anthem) and Akhtar Hussain Saheb, former Governer West Pakistan and President Anjuman-e-tarraqi-e-Urdu Pakistan.
Following photo is from a mushaira gathering in London in 1981. The photo shows Qateel Shifai, Zehra Nigah, Parveen Fana Syed, Iftikhar Arif, Himayat Ali Shaiyar, I.H. Burney (Host BCCI), Zamir Jannery, Jamiluddin Aali and guest.

In the following photo Neelofer Abbasi is seen interviewing Jamiluddin Aali during daily morning show 'subah-e-nau' of Radio Pakistan.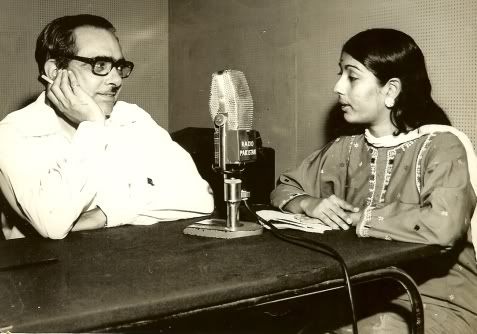 Due to his unquestionable allegiance to the motherland and is hopeful for the future. "jeevay jeevay Pakistan"!
AUDIO COLLECTION:
(1) His Rare Collection : Audio Poetry of Jamiluddin Aali during Radio Pakistan Karachi Mushaira 1963
(2) Jeevay Jeevay Pakistan. All time favourites in his own voice can be heard here. You will have to choose Aali from the drop down menu.
VIDEO COLLECTION
(1) Doha and Ghazal
(2) Mushaira in Michigan USA
(3) 1965: aey watan ke sajeele jawano – sung by Madam Noor Jehan
The 1965 War got Aali to compose his first national song. Sung by the late Noor Jehan, Aey watan ke sajeeley jawanoon gained tremendous popularity.
(4) hum Mustafavi haiN
This song was the anthem of Islamic Conference held in Lahore in February 1974. Poetry is by Jamiluddin Aali and the song is sung by Mehdi Zaheer.
Credits:
1. Article on Jamiluddin Aali in DAWN by Naseer Ahmed;
2. Raju Jamil, for his photo collection;
3. Mushaira.org;
4. Urdulife.com
5. The News