Adil Najam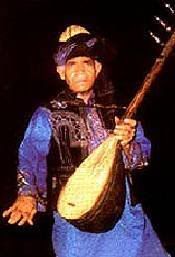 I suspect that many of our readers have never even heard of – let alone seen a performance by – Faiz Mohammad Baluch. If so, you do not know what you have missed; so watch this video!
This video may look quaint to some, but there was music performance well before there were music videos or the era of MTV or even PTV! There was an entire generation of wonderful (mostly folk) singers in Pakistan whose stage was neither film nor television, but the local mela, the village chopaal, the dera. Like Alam Lohar, Sain Akhtar, Tufail Niazi, and many others, Faiz Baloch belonged to this generation. Their audiences were live and intimate; their sound was rough but authentic; and their performances were unchoreographed but heartfelt. They never mastered the skills of looking into the camera, but they always did look into the eyes of their audiences. Their cues came not from the video director, but from the reactions of their listeners.
I remember listening to a few of these greats as a very young child and I still remember that their was something quite electric about those live performances. Something, that never translated to the television screen. This is why I offer this video hesitantly. It does not really do justice to the magic of Faiz Baloch performing live. His signature song used to be 'Laila O Laila' and he would go rather wild with his dance steps (Michael Jackson, make way). The song in this video, is also set to a traditional Baloch tune but is, I think, one of Uxi Mufti's efforts in the early Bhutto days to create national songs around folk tunes and have them sung by famous folk singers.
It is not a bad song, and you do see the skill of Faiz Baloch as a singer and as a performer here. But it is more stiffled than what I recall. Partly, this may be because there is no audience and this was not a man used to performing to machines. Partly, it may be because he is singing in Urdu here while most of his work was sung in Makrani and Balochi (I think). But despite all this, it is a fascinating performance – note, especially, the dance steps around 2:30 into the video.
I have been watching it repeatedly over the last many days and enjoyed it tremendously. So have my young kids. I hope you do too.