Ancient cave civilizations are found in many countries of the world. In Pakistan also, some cave dwellings have been found at a place Gondrani (or Roghan Shar or shehr-e-roghan) in Balochistan province of Pakistan.
Following is a photo of cave houses found in Gondrani, Pakistan.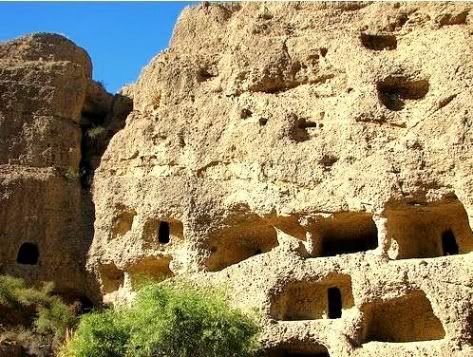 Who Built These Caves:
As with several other historical sites in Pakistan, there is some dearth of exact knowledge on to who built these caves. In the absence of exact archaeological knowledge there are atleast a couple of theories and myths about who built these caves. One of these theories sounds like a possibility to me and the other one seems like a myth but I will let our readers decide on whichever version they want to belive in.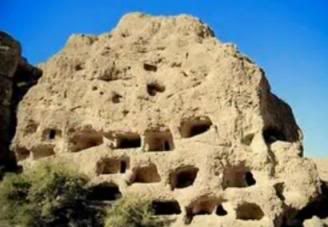 (1)According to first theory these caves were built by the Buddhists in 7th century A.D. Reference to this claim are found in a book called 'Al-Hind, the making of the Indo-Islamic world'. In this book there is a chapter called 'The Frontier of Al-Hind'. An exceprt from this chapter goes like this:
In effect, at eighteen kilometer north west of Lasbela (now called Bela), at Gandakahar, newar the ruins of an ancient town, are the caves of Gondrani, and as their construction shows these caves were undoubtedly Buddhist.
This theory seems more reasonable as the presence of Buddhists in this area is also documented by Sir Thomas Holdich in these words:
"After Alexander's death, one of his generals, Seleukas Nickator, became ruler of central and Western Asia. For many centuries after this, nothing can be traced about the history. In early seventh century the ruler of Armabel (present Bela) was a Buddhist Somani. Chach usurped the throne of the dynasty of Sindh and marched to Bela in 636 AD. Chach was cordially received at Bela and was impressed with the loyalty of the people of Bela."
Notes:
(1) Brahman Chach was the ruler of Sindh in 7th century A.D. Lasbela at that time was part of a state called Gandava and was governed by a Buddhist.
(2) Colonel Sir Thomas Hungerford Holdich, (1843-1929) was an English geographer and president of the Royal Geographical Society. Among other achievements, he is credited with extensive surveying he did in Balochistan.
Another reference about possible Buddhist connection of Gondrani caves comes from the Imperial Gazetteer of India as follows:
The caves at Gondrani, north of Bela, hewn out of the solid conglomerate rock and possibly of Buddhist origin; and the highly ornamented tombs at Hinidan and other places, affording evidence of a system of superterrene burial, constitute the more important archaeological remains in the State.
The above reference clearly talks about historical Buddhist influence in the area around present day Bela therefore it is very likely the caves of Gondrani were built by Buddhists in the 7th century A.D.
(2) According to second theory which is more like a local myth goes like this:
Legend has it that this was the city of a nameless king during the reign of King Solomon. The king had a beautiful daughter, Badiul Jamal, who was tormented by six hideous demons who attempted to carry her off. Seven heroes came to her rescue, but all died trying to save her. Then prince Saif-ul-Muluk ride into the scene, vanquished the demons and won the princess.
It is interesting to note the myth/story of Saif-ul-Muluk in this area as well as hundreds of kilometer in North along river Kunhar. It also shows the persian influence in this area. The characters of Saif-ul-Muluk and princess Badiul Jamal come from an old Persian folktale of a prince and a fairy.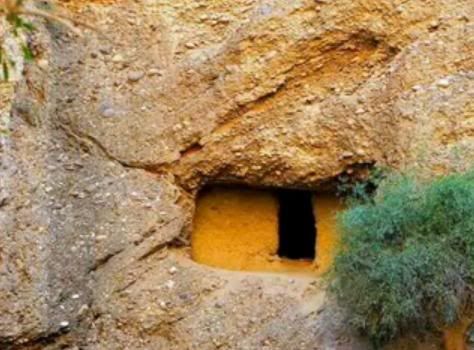 How to Get There:
These caves can be reached by Karachi-Quetta Highway N25 – formerly RCD Highway. The city of Bela is located at kilometer marker 175 from Karachi.
Few kilometers north of Bela, a dirt track goes towards left (north-west). The caves are reached after a few kilometers of travel on this dirt track. The total distance of these caves from Bela is between 15 km to 18 km. The dirt road leads across a stony waste past several scattered huts to a small stream, across which is the opening of a narrow gorge whose sides are packed with hundreds of cave houses.
The map below shows the location of Gondrani as compared to major highways in the area as well as in comaprison on Hingol National Park. M8 is the Rato Dero-Gawadar Motorway, N10 is the Karachi-Iran coastal highway and N25 is the Karachi-Quetta highway.
The Construction Features of Gondrani Caves:
These caves are built in several levels. Walkways connect together the caves. The houses are generally one small room with hearths and wall niches for lamps. There are also some with a veranda infront. The ceilings are all darkened from wood smoke.
GPS Coordinates for Gondrani Caves:
Latitude: 26.3978
Longitude: 66.2261
For further coordinate details, see here
The Hope:
My hope is that Government of Pakistan or any other research organization conducts proper archaeological survey of these caves. The exact year of their building needs to be determined along with declaring the caves a protected area/state park to save them from getting defaced, vandalized or political grafiti which is bound to come with increased tourism.
Photo Credits:
1. quettabalochistan at flickr.com
2. quettabalochistan at youtube.com
References:
1. Discovery Channel Insight Guide Pakistan, 2000
2. Google Earth
3. Al-Hind, the making of the Indo-Islamic world by Andre' Wink
4. Imperial Gazetteer of India – Digital South Asia Library
5. Gondrani coordinates
ATP's Other Posts on Balochistan:
(1) Tourism in Lasbela, Balochistan
(2) Learn Balochi 101
(3) Sukkur to Quetta by Highwat N65
(4) Pakistan Gives: ATP's Contribution to Balochistan Cyclone Relief
(5) Baluchitherium – The Beast of Balochistan
(6) Nawab Akbar Bugti Killed
(7) Gwadar Port: A Great Development Project or A Great Game
(8) Zhob Valley Railway (ZVR)
(9) Bolan Pass Railway
(10) The Trans-Balochistan Railway
(11) Learning Resource Center, Nushki – Balochistan
(12) Owning Fred Bremner – Historic Photos of Balochistan
(13) Balochistan Travelogue: Ziarat ke zaair
(14) Mud Volcanoes of Balochistan
(15) Hingol National Park of Balochistan
(16) Cyclone Havoc in Balochistan
(17) Khojak Tunnel – Railways in Balochistan
(18) Chappar Rift – Railways in Balochistan
(19) Karez Irrigation in Balochistan
(20) Pishin: Food, Fruit and History
(21) Astola Island – Off the coast of Balochistan, Pakistan