I remember it was Saturday and I was talking to someone at a branch in Abottabad (of the bank I used to work at) when the manager told us that they have felt jolts of the earthquake. We took it as something out of routine in those areas and left for home. (Saturdays are half days at banks).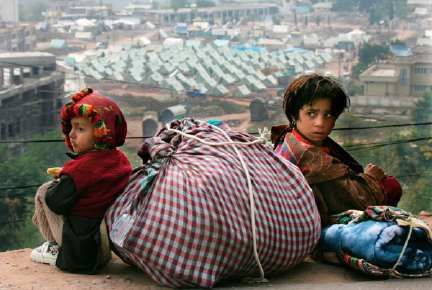 The evening news broke the news of what disaster it was. I remember sparing a thousand-rupee note and giving it to my dad asking him to donate. Early next morning, still in the bed, flickering through the channels, I saw the affected areas on AAJ TV channel. I got out of bed, took out all my warm clothing and spared maximum of them to be donated. I took all the warm curtains, extra beddings, blankets, quilts, shoes, slippers (that could be worn in cold weather), everything that I could find at my place, even the ones in use.
Sunday evening, my dad, and me before iftar went to PAF Museum to donate the stuff collected by me. PAF Museum was the platform to gather those I thought I would be among the initial ones to donate, but the scene was totally different. There was a long queue of cars waiting to enter into the museum. Inside there was no parking. People were there on foot, donating sacks of flour, people who came in taxis, on bikes. People who were in four-wheel drive. The unity of the nation at that moment is still vivid in my mind.
We are no doubt an amazing nation. We fight among selves, kill among selves but we also stand by our brothers in the hour of need. It was the call of nation and we the Pakistanis as a nation stood as one! One of the moments which made me proud of my country. Tears rolled on my cheeks.
On our way back we gave a ride to a family: a man and two cute kids who were there to donate some stuff and whose car broke on way back. After introduction we found out the man was a producer in GEO TV. And the only topic under discussion was what great nation we are.
Got back home. Iftar was just a ritual. My heart and head both were indulged in the details of the after effects of the earthquake and the people over there.
II
Next day at work, I felt the urge to be there. And that was when I made up my mind to do something even if I didn't manage to reach those places and get an opportunity to help.
I knew there were enough people at PAF Museum to help. Also they had more stuff than they could manage, so I decided to make my own contacts. The first thing was to collect donations. I called all my contacts, my school fellows, my high school fellows, university friends, my colleagues. And Alhamdullilah it went good.
We bought medicines. Augmentin ( antibiotic) syringes, masks, surgical equipment, ORS, Cotton, dyclo, pain killers, POP (plaster of Paris), Crape bandages, antiseptics …. was a long list. I contacted Fazil, an ex- Fellow at PAF Faisal who was now in army and some how convinced him to receive the goods that we were sending. He kept me updated daily about the daily requirements and progress and the conditions. He himself was in those areas.
Another friend Ausaf, a university senior helped me buy the medicines from somewhere near DENSO hall, a wholesale market of medicine. Since it was the donation that was gathered and within lay the trust of so many people, I felt this a big responsibility to spend it at the right place. I was worried about the prices and whether the delivery will be successful or not.
It was the holy month of Ramzan. We were fasting and it was too hot out there.
It was only the passion, which kept us moving. After work, Ausaf and me collected the donation from several places (our friends) we went to the market somewhere near saddar and found no parking. We parked the car at almost 30 minutes walk from the market. All sweating went to the place struggled to find the shop first and then waited for the medicines (those days medicines were short and although we had already called the dealer we had to wait).
After almost an hours struggle, we heads high, walked all the way where we had parked the car, only to find that the traffic constables had taken it. Walked for another 30 minutes to reach the place where the car was and got it by paying them some amount.
On our way, we remember how Ausaf and me felt thirsty just by looking at those billboards. And we kept reminding each other that we were out for a noble cause and Allah would reward us. It was almost iftar when we reached home. This was the first lot of medicines bought by us.
III
The delivery came in. I had trust in Allah who would not let our effort go in vain. And I knew we would get them delivered ASAP. My task began soon after iftar when I started contacting people who were leaving. As soon as we knew some one was leaving we used to pick up the stuff and by hook or by crook manage to get it delivered at their doorsteps nicely packed so none refuse to take it.
None in fact would have refused we were all working for the same cause. The will to work first handedly was there in my heart. And I knew it would come true. Though zero percent were the chances. But the faith was very strong.
I just kept a track of who was leaving. For me it was a special task. A dream that I had to serve humanity. With every news of a new group leaving, my heart pounced hoping they would ask me to get along with them. There were several other batches in which we delivered medicines, food, clothes, toys.
There were teams from Jinnah hospital, JPMC surgical wards or private trailers send on the mission, there we were (me and Atika Khan, my colleague and very good friend) always on time to deliver the goods. It was a daily routine of mine to gather information after iftar (evening) who was leaving, and next day deliver the goods….
Unaiza Nasim, based in Karachi, has since been very active in the relief and rehabilitation efforts and is now preparing to go back to the affected areas with more assistance. She blogs at various places, including at Chowrangi.