Just last week, I got hold of this poetry book which blew me away. I thought this was the book that I had been waiting for. 'tha intizaar jis ka, woh shahkaar aa gaya'. Mr. S.M. Shaiq has collected almost 400 ashaar (verses) written on Pakistani transport and published them in the form of a book titled 'deewan-e-transport' (see the title photo to the right). kiyooN? hai na mazay ki baat !!!.
I have selected 20 out of 400 ashaar found in this 204-page-book to be shared here. To translate Urdu poetry in English requires special talent, which I don't have. I've tried to translate few ashaar literally but not poetically. If our readers want to give it a try, I may add your translation in the post here. Give it a try!
(1)
The background of this 'sher' is that Dina is a city 16 km west of Jhelum city on highway N5. If you are traveling East to West on N5 then Dina is further ahead of Jhelum.
(2)
Following sher made me laugh and therefore I chose it to share here. A lot of imagination has gone behind the creative thought presented here.

Translation:
I have become so weak in the sorrowness of your separation
Even the bed bugs are able to drag me out of the bed
(3)
Following sher has this phoenetic feeling to it. A donkey's bray is considered an unpleasant sound in Pakistan. The literal translation is that the poet kept braying like a donkey whole night while crying and waiting for the beloved to show up.

(4)
Another important aspect of the book is that Shaiq Saheb has not tried to do any 'islaah' (correction) on the poetry. This has preserved the natural innocence and 'be-saakhtagi' (spontaneity) of the transport poetry. Many 'ashaar' are not hum-wazan, and many have problem with 'tazkeer-o-taanees' (gender) e.g. feminine words sometimes are refered to as masculine and vice versa. But this lawlessness in poetry is what makes it so colorful and enjoyable. For example enjoy the following sher which presents its subjects in reverse gender.

Translation:
Who says we don't get to see each other?
We do get to see each other
BUT
we don't get to talk to each other
(5)
Following sher probably qualifies as prose, but nevertheless it conveys its meaning in an innocent way.
Translation:
Turned a corner, broke the motion, broke the body
broke the axel, and had to faced the truck owner
Lost the job, went home and got beaten by elder brother.
(6)
I must also say that every now and then one does comes across a very standard poetry sample, which makes one think in admiration of poetic sense of its creator as well as the transport owner. e.g. Look at this sher written on a vehicle spotted in Rawalpindi:
Translation:
People of my city look extra happy today
It is as if they' ve not read the daily news
(7)
Following sher which was spotted on a Karachi truck actually comes from an authentic Urdu language poet, janaab Iftikhar Nasim. The copyrights of this sher belong to him and we have been fortunate enough that he also left us a comment below this post.

Translation:
All the prayers were left bundled in holy covers on a higher shelf
As sons left homes for their journeys, mothers were left home alone
(8)
S.M. Shaiq has dedicated this book to all drivers, Cleaners, Mechanics and transporters of Pakistan who despite all hardships are keeping the wheel of economy moving from Karachi to Landi kotal.
(9)
Translation:
My vehicle is a flying saucer
And I am its lonely occupant
(10)

Tranlsation:
O' God! why is the mail not coming?
Has love reduced or the post office is closed?
(11)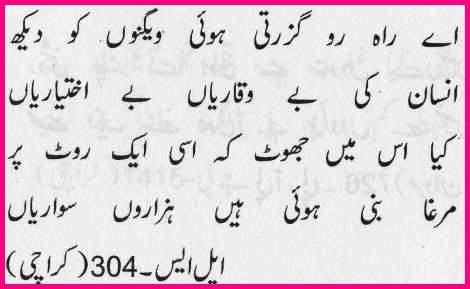 Translation:
O' take a look at these passing buses
Observe human disgrace and lack of control
Is it a lie when I say
Just on this one route,
thousands of humans are packed like chicken.
(12)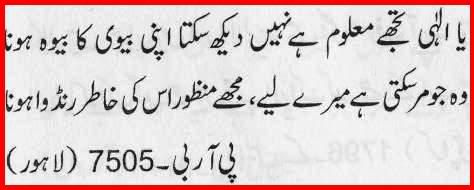 (13)
(14)

(15)
(16)
(17)

(18)
I love following sher. See how simply the life phillosophy and exploitation of a human by the hands of another human is portrayed here.
Translation:
A human is biting another human
A snake is just sitting on the side and smiling
(19)
Another one which is right out of the books of philosophy.
Translation:
I broke the mirror into one hundred pieces
and looked at myself
I was alone in one mirror
as well as alone in one hundred
(20)
I selected following sher because it made me smile. It is very spontaneous. Almost abrupt.
S.M. Shaiq has not only meticulously collected these 'ashaar' but also noted down the 'Number Plates' of the vehicles from which he copied them. In the preface of the book, Shaiq Saheb tells us that one of his 'gham-e-rozgaar' (employment) required him to travel by road in Pakistan a lot and he enjoyed reading poetry written at the back of Pakistani trucks etc. Very soon he found himself collecting this great treasure of poetry and finally gave it a book form.
An Audio Clip of S.M. Shaiq
An Audio Clip of S.M. Shaiq, where he talks about this book project can be heard here.
How to Get This Book?
If you need info on how to get this book please email at urdutalkradio@gmail.com or it can also be bought from dukandar.com.