A cross post from Raza Rumi's jahan-e-Rumi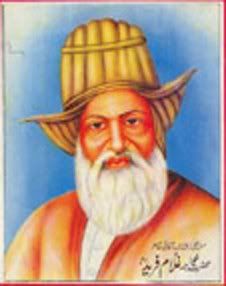 Recently while going through some of my late grandfather's books, I was struck by a feeble looking deewan of Khowaja Fareed. Feeble because it bore the date of 1964 for its inclusion in his impressive book collection. Expressing the thrill of holding a book which had travelled 44 years in time to reach me is beyond words. Needless to say with what intensity the book's contents kept me immersed in them for almost two hours with un -interrupted focus which is a rare event in an ever-reaching-out-to-meet-a-target kind of life style we are used to.
Khowaja Ghulam Fareed is one of a very few Sufi poets of Sub-continent who had an equal command over Arabic, Persian, Urdu, Hindi, Siraiki and Marawari languages. A rare and enthralling blend of these languages is found in his Kafis.

Kafi as we know is a genre of poetry most frequently used by the mystic poets of South Asia to express their love for murshid (spiritual mantor), man's relationship with his creator and ever existing tension between ishq (devotion) and aql-o-ilm (reason and knowledge).
Although I had previously relished Khowaja's poetry through various musical maestros e.g Pathane Khan (menda ishq vi tun….), Surraya Multanikar (peeloo pakian ni…) and Zahida Parveen (kia haal sunawan dil da..). However,this particular encounter with his Deewan introduced me to the depth and timelessness of his poetry like never before. I was also amazed at the range of subjects covered in his poetry. One particular Kafi which I am quoting below would give you an idea of what I am trying to say. These are beautifully coined and smoothly fluent Urdu lyrics.
kis dharti se aaye ho tum
kis nagri ke baasi re
prem nagar hai des tumhara
phirte kahaaN udaasi re
kiyooN hote ho jogi bhogi
rogi tarah beraagi re
apna aap sambhaal ke dekho
kar ke nazar haqeeqat ki
apni zaat sifat ko samjho
apni karo shanasaai re
baat Fareedi soch ke sunio
la kar dil ke kaanoN ko
donoN jag ke maalik tum ho
bhole allah raasi se
And here is an effort to translate the gist and not each and every word:
"You are an inhabitant of the land of divine love, so do not wander in despair. Place a hand on the pulse of life and look into the eyes of reality. Perceive your inner self and take an account of what treasure it holds.Listen to what Fareed is saying with not your physical ears but with your heart and soul. Let me tell you that only you are the sole owner of this universe."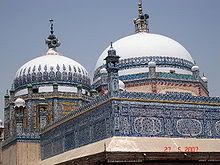 Photo to the left is Khowaja Ghulam Farid's tomb in Kot Mithan.
Another unique feature of his poetry is the externalisation of deepest emotions through the use of vivid imagery of Rohi (Rohi is the name used for the Southern Punjab desert which was Khowaja's abode). References to fruit picking (Peloo), to native women going about their daily chores (Jatian), the rain (megh) and the desert (Thal) transport the readers to his world and there he addresses them as if in person.
GARJAT BADRA TASKAT BIJLI
RIM JHIM BARISH ZOR GHATA KE
SAJAN BHAJ FAREED HAI JEENA
MUSHKIL AISE BAR UTHA KE
Its un imaginable to live without the beloved when showers of rain and whips of lightening are thrashing me"
And in the end I want to share with a Kafi's few couplets which he wrote with overtones of Wahdat-al Wajood (I dont know how to translate this term but it is commonly known as Oneness of Existence – Unity of All Beings!)
HAI ISHQ DA JALWA HAR HAR JA
SUBHAN ALLAH SUBHANALLAH
KHUD BULBUL TE PARWANA HAI
GUL SHAM OOTE PARWAN HAI
THI CHAND CHAKOR NUN MOH LYA
SUBHANALLAH SUBHANALLAH
TASDEEQ KITHAN TANZEEH KITHAN
TAQLEED ATE TASHBEEH KITHAN
HAI HAIRAT SUKH TASLEEM-0-RAZA
SUBHANALLAH SUBHANALLAH
HAI PEET FAREED DI REET AJAB
HAI DARD TE SOZ DI GEET AJAB
SUN SAMJHO SARE AHLE SAFA
SUBHANALLAH SUBHANALLAH
Interpretation: That Love pervades and manifests everywhere – in the form of the lover and in the form of Beloved- but they are actually the same.
Here is a best rendition of this Kaafi. Please listen – even if you do not understand the lyrics, you will be moved.