Adil Najam
The Daily Jang (28 October, 2006) has a special supplement of former President Ghulam Ishaq Khan's (GIK) death which has some interesting commentary in it and also some memorable photographs that reflect the role he played in carving Pakistan's history. It makes for some interesting reading and viewing.
My particular favorite is the set of headlines from three critical moments GIK's- and Pakistan's – life story (click on image, or here, for larger picture).
The following three pictures are also fascinating documentations of where we (and GIK) have been and are thought-provoking: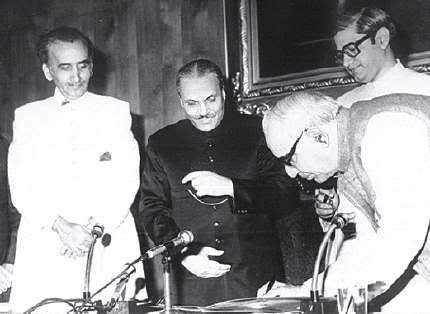 (1) As Chairman Senate, Ghulam Ishaq Khan signs the documents that formally put an end to Gen. Zia ul Haq's Martial Law on 30 December, 1985. Zia ul Haq himself, Prime Minister Junejo and Chairman Majlis-e-Shoora Fakhar Imam look on.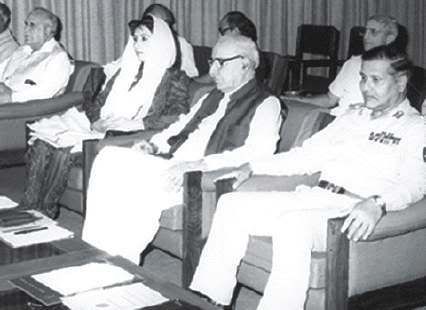 (2) President Ghulam Ishaq Khan, Prime Minister Benazir Bhutto, and Chief of Army Staff Gen. Aslam Beg together. Interior Minister Naseerullah Babar at far left. I think it may be (later President) Farooq Leghari's head in the background, right behind GIK's.
(3) President Ghulam Ishaq Khan in conversation with Prime Minister Nawaz Sharif, then Chief of Army Staff Gen. Aslam Beg, Chairman Senate Wasim Sajjad and Amb. Akram Zaki.You can also see Ijaz-ul-Haq in the background.