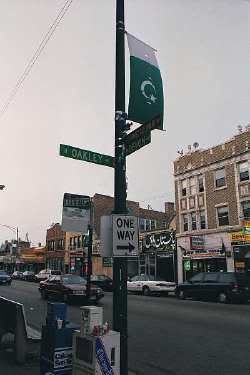 Adil Najam
This may not mean much to our readers outside of the United States, but within the Paksitani-American community, Devon Street in Chicago is a landmark location and Sabri Nihari, within Devon Street, is an institution in itself. These are icons of the Pakistani-American community and Devon Street is the closest that we have in the US to a 'Pakistani icon.' The one other possibility may be Jackson Hieghts in New York, but in all fairness Lahore, Lahore hai and Devon Street, Devon Street hai.
This Thursday a fire broke out in the block on Devon Street that includes Sabri Nihari and also engulfed and gutted another Chicago landmark, Poshak Boutique. According to a story in Chicago Tribune:
The smell of smoke and charred debris hung heavy Friday over the heart of Devon Avenue, a boulevard of American dreams built by immigrants from India, Pakistan and Bangladesh… But a fire Thursday morning ravaged most of the south side of the street between Campbell and Maplewood Avenues, closing 15 businesses and 11 apartments. Friday morning, shop owners gathered across the street in Zam Zam Restaurant to commiserate, compare losses and try to find a way to smile through it.

"Outside I'm laughing, but inside I'm crying," said Abdul Wahid Butt, whose Sabri Nehari Restaurant had been so popular that patrons often waited an hour for a table and a chance to sip the nehari, a spicy beef stew. Friday it was boarded up, its roof collapsed, its green and white sign blackened. "Thirteen years of hard work and I've been left on the street," he said. Estimates of destroyed inventory and lost business ranged into the millions.

Mohammed Rehan, the owner of Sur Sangeet, which rented Bollywood movies, had just taken ownership of the store a month ago. He didn't have insurance. Hamid Mirza, the owner of Chandni Boutique, a clothing store, reflected on how eight years ago when he first came from Pakistan, a house fire left him homeless. He and his family survived and eventually started the boutique, only to have another fire devastate them.

"Each and every shop has its own unique presence on the street," said Mahesh Sharma, 50, who had walked down from his own business, the India Book House, to take a look. "Everyone comes here from a different part of the world to make a living. People here put in a lot of hard work, so when something like this happens, it really hurts."

Shujaat Ali, owner of Sohnny Jewelers, walked into Zam Zam with relief in his eyes. He had been allowed into his store Thursday night and his glass showcases appeared intact. There was no water damage in the store. His goods were locked away in a safe. But as long as the store remained closed, he was losing sales.

The fire began at about 4 a.m. Thursday. Three buildings share one facade along the block. Fire officials said flames were initially reported in the rear of one of the buildings and quickly spread across the roof. Although firefighters were able to get the fire under control within two hours, they battled hot spots throughout the day Thursday. They returned Friday morning to put out rubbish that had rekindled. The cause remained undetermined Friday, said fire spokeswoman Eve Rodriguez. But firefighters had some much-needed good news for occupants: The buildings were no longer in danger of collapsing.

Butt welcomed the news. Since first arriving 27 years ago on a temporary visa, the Pakistani businessman has struggled to make a life in America. He lived illegally before being granted amnesty in 1986. He is now a U.S. citizen. For many years, he drove taxis, 14 hours a day, saving money for a business. Two decades ago, he started his first restaurant on Devon. It failed. He started another. It failed too. Sabri Nehari was his first success. Butt opened it 13 years ago in a small storefront, east of Western Avenue. He said he put 16 hours a day into his restaurant, cultivating customers and developing a loyal following. Eventually, he moved the family eatery to the current, larger site west of Western. He now owns other businesses in the area and in DuPage County as well.

But Sabri Nehari on Devon was where many of his family memories lay. Recently Butt, 52, had bought the store next door hoping to expand the 140-seat capacity. "It was the No. 1 restaurant on Devon," said Rohit Maniar, vice president of the National Republic Bank of Chicago and an unofficial expert on the strip. Qamar Churra, who walked by across the street, had eaten at the restaurant the night before the fire. He wondered if he'd find another eatery that was as friendly, a place where he could hang out with family and friends. "I come and eat here every other week," he said.

Butt said he has been getting calls from patrons, expressing their sorrow and pleading with him to reopen soon. On Friday, in between pep talks with other business owners on his block, telling each to have faith in God, Butt was busy trying to secure financing and looking for another site along the street where he could open another Sabri Nehari–ASAP. "I have a lot of customers," he said. "I have to open as soon as possible."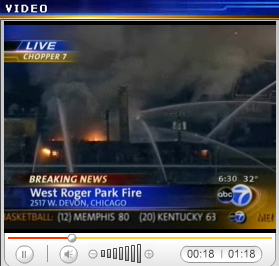 As would be expected, the Pakistani-American community in Chicago is abuzz and mobilized around this issue. Listening to the discussion on this tragedy on Urdu Talk Radio Chicago one does get the sense that many see this as a collective loss for the Pakistani community and not just the businesses involved.
The Urdu Talk Radio Chicago website also has information on the tragedy, including a video news clip and promises to remain updated on the issue.