Mohammad Ayaz Abdal
It was a very captivating scene. My friend Andrew, a born Britisher who as a kid moved to Canada, eating Nihari with full zeal and devotion…..and this was his first time. I never thought that anybody from this part of the world can not only taste Nihari but also enjoy it. This dish whose story goes back about 200 years has now conquered the world rising from the city of Dilli. (the name old Dilli walla use for Dehli)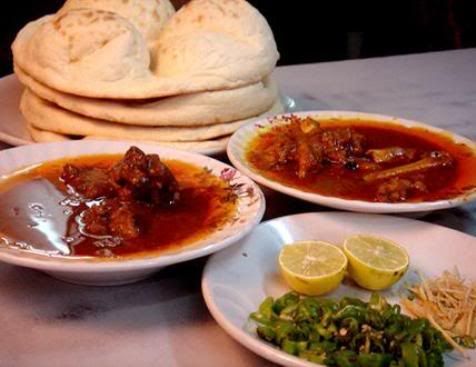 My mind went back to its origins. Ashraf Saboohi, in his very interesting book Dilli ki chand ajeeb hastiyan wrote:
"We have heard from our elders that when Saadat Khan cleaned the Shah Jehani Nehar (Canal) and it started flowing again in the middle of Dehli, Alvi Khan Hakeen wore the funeral dress and entered the Court. When king Mohammad Shah asked the reason he said, I am crying over the lost health of the city. Disease will now become rampant. When asked about the cure, he advised increasing the use of Red Chillies and Khataai (I do not know its English translation). In order to reduce the effects of these heavy duty spices, it was recommended to add pure ghee."

So the king ordered the cook to design a dish as per the Hakeem's specifications. It is actually a type of Qorma where only beef shank meet is used. Fried onions, hot ghee, lemon, slices of garlic and coriander leaves are used as dressing and it is served with hot naan bread. Bone marrow and goat brain are added delicacy. (I have seen people adding makhan ka baghar (fried butter) also). After the dish it was customary to eat Gajar ka halwa (Carrot pudding) to reduce the effects of spices. At Burns road in Karachi, all the good halwa and rabri shops were next to Nihari shops. I don't know whether they now exist or not. After reading the above paras, you would have guessed correctly that coronary disease was not discovered or was not given much thought during those days.
The Nihari wala that has been mentioned by every Dilliwala was Ganja Nihari wala who took the preparation of this dish to an art. During those times, Nihari was more of a winter dish. It was not available throughout the year as it is now. It used to be eaten early in the morning. It was especially liked by the poor as this food is enough for them till dinner. It was cheap during those days and skipping lunch would save money for them. Rest of the year, these Nihari walas used to sell other dishes but not Nihari.
The making of Nihari was an art. As per Ujjra Dayar By Shahid Ahmed Dehlvi (grandson of Deputy Nazir Ahmed:
"Usually a hole was dug near the shop where the pot was put into with a window below to put the coal in. After putting all the spices and meat, it used to be cooked for the whole night. The tradition was to eat Nihari at the shop. There is only one daig or pot. So whoever comes early, rich or poor will get the order. Once it is finished, you have to wait till the next day. "
This reminds me of my childhood. Our Nihari wala was Sagheer from Dehli Muslim hotel (not the Kalia) at Burns Road. Sagheer and our family go a long way. His grandfather used to be our family bawarchi (cook for special occasions) and served my great great grandfather. We were totally prohibited from buying Nihari from any other place. Nihari was only ordered in winter and also only for breakfast. Usually on a Wednesday, Sagheer was called and was told that we will be having Nihari for the weekend. On Saturday evening, my uncles would leave our pateelas (pots) at his shop. Sunday morning, one of them usually wakes up quite early to make the trip to the shop. We try to wake up too to join him. There Sagheer would use to fill our order himself rather than the servant as taking out the Nihari was regarded as an art. He knows who in our family like adla and who wanted reshay wali boti. Nalis and bhejas was wrapped separately along with the Naans. On our return home, the big dastar khawan (eating mat) was spread in our big room. Special newly polished copper plates (Qalai wali rakabi) were used to eat Nihari. My grandmother and mother would have already made the baghar (hot oil) that used to be put on the Nihari. It used to be warmed again. Our old servant Bahadur Ali used to warm the naans on our angheeti (coal fired stove). We used to sweat during those early winter mornings due to the warmth and spices of that Nihari. There was no lunch and a very light dinner (usually Kichri) was served in the evening.
Now when I look back all those characters are gone. Sagheer died quite early and his hotel is gone. I think he had a kidney transplant operation in India and became quite famous as he was one of the earlier Pakistanis who had this kind of a procedure over there. His interview was even published in Akhbar-e-Jahan, if my memory serves me right. We started buying Nihari from Waheed hotel and also tried from Malik's. They were good but not like Sagheer. We used to laugh at Sabri's. We used to call it the spice less or sick man's Nihari. Then came the big revolution where Nihari Inns were opened at every corner and it became a dish of all seasons. I remember when we first looked at Nihari at a wedding reception, we were quite
shocked. That was the age of innocence.
So Nihari has moved from the Bhatyaras of Dilli to the Sabri hotel at Chicago. It has lost a bit of spice in the transformation but it has still regained the numero uno position (at least in my heart) of the dishes from our part of the world. It still dazzles the palate, and sometimes the digestive systems, from people of all color and nations.