In my not-so-extensive vocabulary, Pakistani food can be divided into two categories viz., Any-day-dishes and Many-day-dishes.
Any-day-dishes are those for which one prays to God to get any day e.g. nihari, qorma, biryani, haleem, halwa puri etc.
Then there are Many-day-dishes. These are generally good for health therefore less popular. These are eaten widely because they are light on pocket and stomach. Once made, they usually last for many days, hence their title. To top this list are few like tinda, loki, kaddoo, torai, bengan, daal (lentils) etc. This situation reminds me of a sher:
ya rab meray naseeb meiN rizq-e-halal de
khaane ko qorma aur khilaane ko daal de
While many web sites are dedicated to the recipes of festive foods, we will today present to you a recipe' of common food. Yes, it is a many-day dish and it is called 'rice masaala'. To cook it is as simple as the equation: rice + masala = rice masala. The recipe' is so simple that it has now made me think whether I should spend more time writing following post or not? I'll give you a sneak peak of our final product. Please look at the photo below and then decide for yourself whether you want to read further or not. My 'istehqaaq' (I want to say 'ego') will not get 'majrooh' (hurt).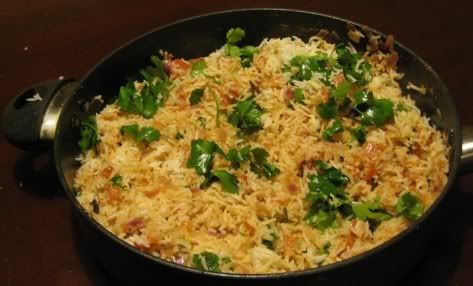 Congratulations! So you have decided to stay on and learn more about this dish. I will not disappoint you. Ok here we go.
Ingredients and Apparatus: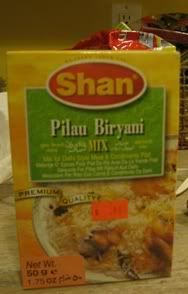 1. Onion – one – mota wala (healthy one)
2. Tomoatoes – four – medium and pilpilay (flubbery)
3. Coriander leaves – one hundred – don't count but visualize.
4. Yogurt – plain – buy more – use less – only 4 spoons.
5. White Rice – 1 glass – adjust the size of the glass according to family size.
6. Olive Oil – 4 spoons – because cooking dil ka moaamla hai (is a matter of heart) and olive oil is good for your heart – wizarat-e-sehat ATP!
7. Shan masala packet of any type of rice. I've used pulaao biryani.
8. Pots and Pans: 1 Pot and 2 Pans
Step 1: Take an onion and cut an onion
It is better to cut the same onion that you took. Yes I am talking about the same one onion.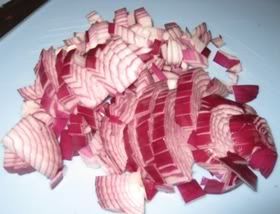 Cut it so that it looks like the one shown in the photo to the right. This type of cutting is called 'chop chop' in English and 'chaap-o-chaap' in Urdu/Punjabi mix. Now you can ask me, why cut an onion first? Very good question – Very good question. You see, there is a story behind it. Our farigh readers should read the story and the time-constrained readers can jump to Step 2.
I first learned cooking at the tender age of 27. My cooking teacher was a good friend of mine, who by profession is also a rice scientist. I am not kidding. The rice fields near kala-shah-kaku, Lahore are partly the result of his research. His first sentence of my first cooking lesson was:
dekheN! (respectfully look)..all foods in India-Pakistan sub-continent are onion based. We must cut an onion first no matter what we cook…
To this I asked
but how do we cut an onion?
and my teacher suddenly realized how difficult of a case he had on his hands. He was patient and I was keen so I finally learned cooking. I think I did. Anyways, from that day to this day I always cut an onion first, no matter what I cook. Sometimes I cut an onion and then realize that I was supposed to make dessert. Ok. see if you let me talk then we'll never finish this recipe'. Let me now quicky go to step number two.
Step Two and Three: Cut 4 medium tomatoes and some coriander leaves.
To save everybody's time I have decided to combine steps 2 and 3. Look at the photo to the left below and look at the tomatoes infront of you. Do anything to make your tomatoes look like mine. If 4 medium tomotoes are not available then 2 large ones or 8 small ones will do. Now look at the photo to the right below. This is how washed and cut leaves of coriander should look like. Put coriander leaves aside now. We don't need them until the very end.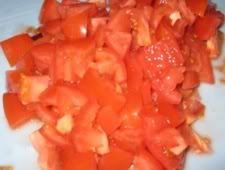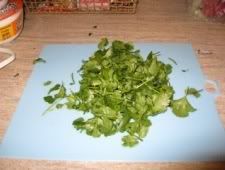 Step Four: Put Onions in a Pan and Fry them
Photo to the left shows this step of cooking. I've used so little of olive oil that you cannot see it in the photo. But be rest assured that it is there. Just use bare minimum oil that is needed to fry the onions. Fry the onions until they start to become transparent. To test their transparency lift a piece of onion with a fork and try to 'see through it.' Of course you will fail, becuase I've tried and failed. Anyways, sometime soon the onion pieces will start to look like a little bit transparent i.e. translucent – in case you needed the exact scientific term. That's it guys! Stop what you were cooking and now immediately go to Step 5 of this recipe'.
Step Five and Six: Put tomatoes and Yogurt in the Pan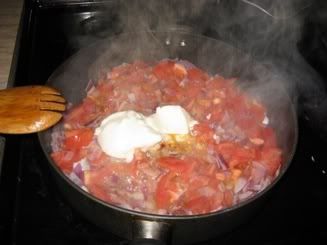 ..and continue to fry. The visual of this step is shown in the photo to the right. The goal of this step is to create an amalgum (or bubble gum) of onion-tomato-yogurt paste and add masala (spices) to it.
Now 'stir and wait' for two minutes and then 'wait and stir' for two more minutes.
Look yonder! Lo behold. your paste is ready. Now pour half packet of Shan rice spice in it and 'stir and wait' for 5 minutes. For a family of three, half pack of Shan spice is plenty spicy. Now that the 'masala' part of your 'rice masala' dish is ready, put it aside and concentrate on next step.
Step Seven: Cook White Rice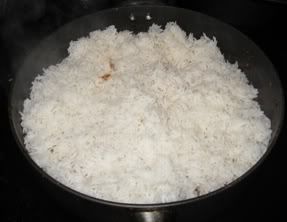 Take a pot. Don't take the pan. Learn the difference between the two, if not known already. For me the easiest distinction is that if needed, a pan can be used as a cricket bat – and I've used it as such (see #20 of this post by clicking here), where as a pot cannot. So now that we've got our pots and pans straightened out, pour one glass of rice in the pot. Pour two glasses of water on it and boil on medium heat. Keep boiling until enough water has evaporated and you can see the surface of rice. Now cover the rice pot and reduce heat. Wait, wait and wait. Take a fork and pinch the rice from here and there to make sure water has evaporated all the way to the bottom of the pot. Your rice are now ready to be devoured. Make sure you don't eat them too fast otherwise your mouth may get burned. kehtay haiN (it is said) that:
husn ko chahiye andaaz-o-adaa naaz-o-namak
kia hoa gar hoay chaawal ki tarah gaal sufaid
Step Eight: The Last Step
Take your second pan – which has remained empty and out of action so far.
(1) From the rice pot take some rice and spread in the empty pan
(2) From the masala pan. take some masala and spread as a layer over rice.
(3) From the rice pot take some more rice and spread over masala layer
(4) Repeat Step 2
(5) Repeat Step 1 through 4 until nothing is left in rice pot and masala pan
(6) Sprinkle one hundred coriander leaves on the top.
This is your finished product. Your very own dish of rice masala.
Following are two photos of 'rice masala' dish which I made few days ago. It indeed lasted 'many-days'.
(1) Rice masala photo with Camera Flash ON
(2) Same Rice masala photo with Camera Flash OFF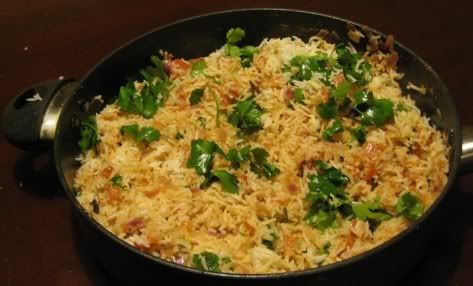 khatam shud – The END
ATPs Other Food Posts
1. 5-minti zabardast aaloo chole chaat
2. suno aaj meethay meiN kia hai…Fruit Custard
3. Curry in a Hurry
4. Made in China: Samosa and paraatha
5. Omelet Recipe' Pakistan Style
6. ATPs best Pakistani food outside Pakistan
7. Bihari kabab and the Runaway Chicken
8. daal-roti in Taiwan
9. halwa puri on a sunday