Two years ago we had brought you a report on where to find Daal-Roti in Taipei and today we'll do the similar report for Kaohsiung.
With a population of 2.8 million, Kaohsiung is the second largest city of Taiwan. While the city is fast turning into a cosmopolitan business center, Pakistani food still has to make inroads here. One restaurant that is breaking this barrier in Kaohsiung is called 'Lahore.' It is located on Lin Chuan Street and today I got a chance to eat there and had a quick chat with the owner who goes by the name of Ali. (Our title photo to the top right shows the main sign board of Lahore Restaurant on Lin Chuan St, Kaohsiung.)
Ali told me that his business started as a small stall serving Pakistani chicken wrapped in chapatis and today it has grown into a proper restaurant with a seating room for approx. 15 people.
'Lahore' restaurant has quite a few Pakistani dishes on the menu but to cater to their 99% Taiwanese customers, they have experimented with Pakistani-Taiwanese fusion dishes. (The photo to the left is one of the Biryani dishes we ordered.)
One should not expect to find authentic nihari, haleem or Lahori chargha here but they do sell the food that is closest to Pakistani food one can find in Kaohsiung.

Lahore restaurant now boasts of a very long menu with Pakistani, Taiwanese, Mexican and Mid Eastern dishes on it. In the following photo I've tried to capture their Pakistani portion of their menu.
I should say that the 'chapatis' of Lahore Restaurant are a must try. While I was having my lunch here, I noticed that Ali started making 'chapatis' from scratch which means he started with white flour, made a dough out if it, and then cooked them on an inverted heated pot. 'chapatis' don't get more authentic than this. I commented to him that this was quite a hard work to make chapatis from scratch, to which he replied: "This is what makes us special."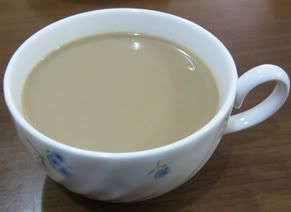 My family, friends and I ordered a couple of Chicken curries, Chicken Biryanis, and Mango lassis. Tea, Fruit Custard and Salad came as part of the 'combo' meals we had ordered. (Photo to the left is a cup of tea that came with our order of a set – combo).
The quantity of food was enough to fulfill our hunger. I want to say the same thing about the taste but my journalistic responsibility will only allow me to repeat the sentence that it is the closest Pakistani taste you can find in Kaohsiung.
(Photo to the right is the mango lassi you can get at Lahore restaurant.) Ali, the owner of the restaurant speaks fluent Chinese, which bodes well with his Taiwanese clients. He also speaks perfect Urdu – which made chatting with him easier for me. I must say that I was surprised to see a Pakistani owned restaurant with a name like 'Lahore' in Kaohsiung, therefore this fact alone has qualified this post for ATP.
I will recommend a trip to Lahore in Kaohsiung if you happen to be there. And now when all is said and done, I observed the following notice pasted in the restaurant.
The notice says that restaurant will be closed for few weeks starting mid January 2011 because the owner is going back to his home country.
The language of notice brought me smiles as well as the observation about so many immigrant businesses who don't get any choice but to close their businesses when they have to visit their native countries.