Owais Mughal
Update: VIDEO highlights added to the post
Pakistan has beaten Sri Lanka by 8 wickets to become the World Champions of T20 Cricket. Hard work of 14 and prayers of millions have paid off. Congratulations to all our readers and Pakistan zindabad. News channels are now full of reports of showing thousands of Pakistanis pouring into streets and celebrating like never before.
For the past hour or so, I've been reading different articles appearing at several cricket sites and to me following paragraph from Cricinfo's Dileep Premachandran says it all:
Remember that this is the team that has no home series to look forward to in the foreseeable future, the country that had the ICC Champions Trophy taken away from it and given to South Africa. These are the players who were prevented from playing in the IPL, and the same side that was annihilated by South Africa and India in warm-up matches. But less than three weeks on, they are champions of the world.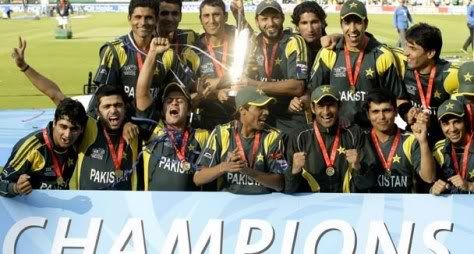 Video Highlights of Sri Lanka Innings:
Video Highlights of Pakistan Innings:
The Final Winning Over for Pakistan:
Presentation Ceremony
Younis' Announces Retirement from Twenty-20:
Another news that has come out of Pakistani camp is that Younis Khan has announced his retirement from twenty-20 format of cricket. He will continue to play ODIs and Test Matches. While it is always better to retire at the height of ones career, he will be definitely missed. He was able to bring players together as a team, something we've not seen in a while. Younis Khan has also deciated today's victory to Pakistani nation and to Pakistan's former coach, late Bob Woolmer.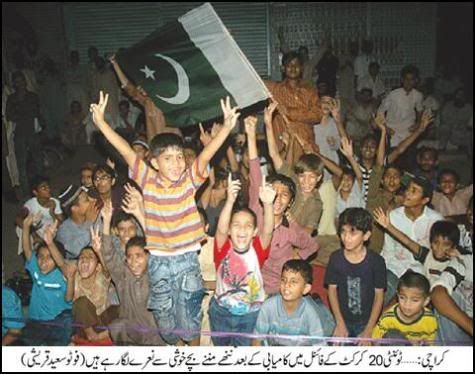 Following is a cutting from Urdu daily Jang telling us about the spontaneous celebration that has erupted all over Pakistan: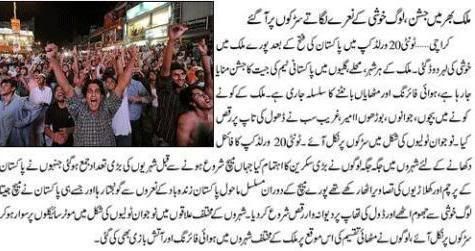 Here is the writeup from our pre-match post:
An ATP Poll we have been conducting since yesterday shows an overwhelming number of Pakistani think that Pakistan will win in Sunday's Twenty20 Cricket Final against Sri Lanka.

Of course, this probably reflects what we want more than a scientific assessment of cricketing merits. But it is clear that the enthusiasm that Pakistan's surprise rise into the final has galvanized has the entire country into a state of frenzy and national pride. That is how it should be.
I myself have voted for a Pakistani win. Even though Pakistan goes in with a 4-2 record in this tournament against a Sri Lanka that goes in with a 6-0 record, any T20 game is only as good as you play on that very day.
I know what I want to happen today. But I also know that just about anything could happen. I cannot even imagine just how happy I will be if that happens. But I also want to mention that "cricket is cricket and a cup of tea is a cup of tea." While a Pakistani win will be the most welcome news, a defeat shouldn't end up in burning player's effigies on roads. After all it is just a game.


Blogistan and the news media is full of people arguing that a Pakistani win will be the best news and morale booster for the Pakistani nation that has been on the receiving end of anything going wrong in the world. I agree. It is time we get something to cheer about.
But a win for Sri Lanka will also be a great event for another South Asian nation that has been going through its own great turmoils. The wounds of a protracted civil war are still hurting there and the trauma of the attack on their cricket team while touring Pakistan would come come back into relief with this game.
The match today between these two South Asian teams promises to be exciting and electrifing. At their best, either can give us mesmerizing cricket. I hope both do. Players from both teams will be playing for the trauma and angst that their respective societies are going through. A win for either will give a much needed respite to their wounded societies and deeply hurting polities.
As a Pakistani I know who I want to win. As a cricket fan, a South Asian and as a human being, I wish both the teams good luck. May the best team win… And, today, may the best team be Pakistan.