Sad news coming out of Karachi states that up to 20 people, mostly women and children died in a stampede in narrow lanes of Khori Garden area. A local businessman was distributing free wheat flour among the poor and needy of the society.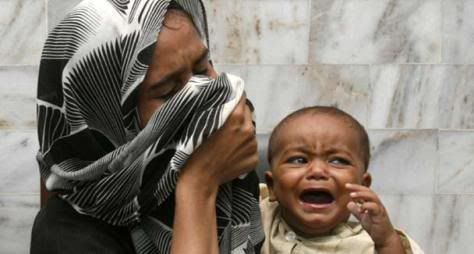 Due to overcrowding of narrow lanes, a stampede occured and the result was up to 20 deaths of women and children that were all preventable. I also want to add a line that I saw from author MB at Karachi Metroblogs: "This is humiliation to Humanity coming at its best" (read as "worst"). Very sad. Since Pakistan's independence I've not heard of so many people losing their lives while trying to get food.

The dawn News update right now gives details as follows:
'We have so far received 20 bodies of women and girls while the injured are more than 30,' Amin Khan, an official at Civil Hospital Karachi, told AFP.

City police chief Wasim Ahmed said at least 18 women and children died in the stampede with dozens of others injured.

'The deaths were caused by suffocation and the stampede in one of the most congested localities of Khori Garden, where a charity was distributing free flour among hundreds of women and children during Ramadan,' he added.

Women clad in black burkas sobbed and wailed as ambulances screeched through the streets, ferrying the bodies and injured to hospital, where panicked relatives searched for their loved ones and dead bodies lay covered in sheets.

'I have lost my little daughter,' cried Karima in hospital. 'I wanted a bag of flour for my family and my greed punished me so gravely,' she sobbed.

A private security guard responsible for making sure the women formed an orderly queue baton charged the women when they became impatient with the long wait, said police and witnesses.

'The women got scared and tried to save themselves… which caused the stampede,' said local police official Hashmat Ali.

Injured Salma Qadir said the women wanted to get their rations quickly but were beaten by a guard.

'The women scared and tried to turn back, which scared others and resulted in a stampede,' she told AFP.

Several dozen women's shoes, sandals and slippers were left lying on the road outside the distribution place in Khori Garden, a warren of narrow lanes and side streets ill equipped for large crowds, an AFP reporter said.

'Fortunately, my mother and sister have survived and I am searching for their shoes and scarves here,' said teenager Mohammad Kashif.

Shops in the area closed as a sign of mourning after the tragedy as women and children wailed outside the crowded emergency ward of the Civil Hospital Karachi where bodies and the injured were transported.

Prime Minister Yousuf Raza Gilani ordered an immediate investigation into the incident and medical treatment for the injured in Karachi, a teeming city that is home to an estimated 14 million people.
Reference: Eyewitness Recounts at Dawn.com
Title Photo of this post is from Dawn.com