Darwaish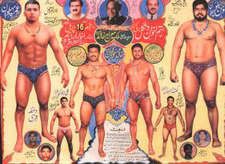 There was a time when being a Pehalwan was a way of life, an art and a passion.
Thousands of people used to watch Rustum-i-Pakistan which was a very popular event in Lahore (just like a one day cricket game these days). You could easily find many Ukhara's or Akhara's (kinda small stadiums where traditional wrestlers exercise) in the city with Pehalwans doing their routine exercises but not anymore.
I have some wonderful childhood memories of having Khalis Lassi (sorry folks, I don't know what Lassi is called in English but Khalis means Pure) near Pehalwani neighborhoods just behind Lahore Fort.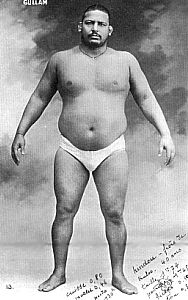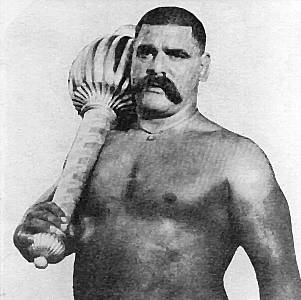 Going there once in a month with family for traditional Lahori Nashta+Lassi was just great. Not to mention some serious exercise was a must and we used to skip lunch after having that Nashta+Lassi. I don't know if the quality and taste is still the same, I haven't been there in ages which is sad.
Even today, if you ask any of your grandparents they would definitely tell you wonderful stories about the legendary Gama Pehalwan or Imam Bux (Bukhsh) Pehalwan or other world famous ambassadors of this beautiful sport (most recently the Bholu brothers: Aslam, Akram, Goga and Azam). People in their mid-twenties may still remember the grand event that took place many many years ago when a number of wrestlers (including Hulk Hogan, The Mask Man, The Under-Taker etc.) from all around the world came to Pakistan and we were entertained with traditional Pehalwani vs Hollywood wrestlers. I still remember Jhara Pehalwan vs Hollywood Hogan :o) which Jhara won of course.
[ATP adds: For a generation before that it was the great Japanese wrestler Anoki who came to Lahore to wrestle, I think, Akram Pehalwan… I believe Anoki won, big time!]
Sadly, the art of pehalwani has slowly been diminishing in Lahore. Though I have had a chance to see some healthy signs in Gujranwala (Gujranwala is called the 'City of Pehalwans'). A serious effort is needed from people and the local government to revive this beautiful art/game in Lahore otherwise it's not that far when we will only be finding Pehalwani in history books.