It seems that ATP readers believe that the most important things that can be done to improve Pakistan's image in terms of women's rights need to be done in Pakistan.
Most importantly (46%) in terms of repealing the Hudood Ordinance and other laws that restrict women's rights; and in societal education in terms of changing the behavior of Pakistani men towards women (27%). A significant proportion (17%) felt that the most important thing is to highlight the many rights that Islam gives to women. Another 8% felt that the thing to do is to aggressively publicize positive news about Pakistan women, while 1 reader opted for launching a 'charm offensive' on the subject as the most important thing to do. (See original questions, here).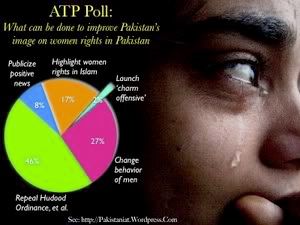 Even more important than these statistics was the spirited discussion on the post. The two strong conclusions that came out were:
The focus of what we do ought to be improving the real lives of real women in Pakistan and the 'image' question could become a distraction women, especially from the challenges faced by rural and poorer women (for excellent discussion on this, see this post on the blog Boundless Meanderings).
To the extent something needs to be done about the 'image' question, everything on the list of questions ought to be done simultaneously; although the most important things are those that change the situation on the ground.
Overall, I felt that our first experiment in having an ATP Poll went quite well. The quality of the discussion was excellent, and a reasonable number of responses (52) were recieved over the day-and-a-half that the poll was up. Of course, this is not really a scientific sampling; there is an obvious smaple bias in terms of who visits this blog; and there were only the minimal design controls. Therefore, I make no claims to broad representativeness. However, I do feel that the results are indicative of how a significant subset of Pakistanis–in Pakistan and abroad–feel.
As many of you noticed, the poll had to be removed quite early and I fear that it got only about half the votes I had estimated (largely becasue it seems that our weekend traffic is quite different from weekday visitors, and weekend visitors did not get a chance to vote). I apologize for this technical glitch–it turns out that the website that the poll was hosted by restarted teh tabulation suddenly on day 2 for no real reason. Since resolving this was beyond the technical ability of this web neophyte, I just pulled the poll and have tabulated the last results I had recorded. I assume, the results could have been different had more people (espeically our weekend visitors) had a chance to vote; but you still do have a chance to continue the discussion here.