In case you have not noticed on the sidebar on the right, ATP has a new feature. An ATP opinion poll for our readers and visitors. The question is about what can be done to improve Paksitan's international image in terms of women rights.
I must confess, even though this is my question it bothers me a bit. Maybe, a better question might have been about what can be done to improve the condition of women's rights in Pakistan. However, there are three reasons why I chose this question. First, the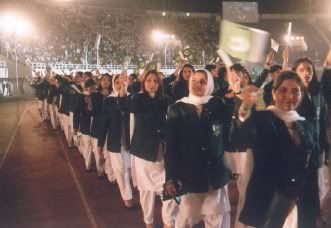 powers that be seem to be very concerned about Pakistan's image these days, so why not give them the benefit of our advice. Second, some folks seem convinced that this blog is about Pakistan's image; it really is not, but lets play along. Third, a lot of our readers are quite perturbed about the image question as various comments have shown, most recently in relation to the ATP post about the Dawn ad. So, OK, lets be positive and think about what ought to be done. Over to you!
The Question: Which of the following will do most to improve Pakistan's international image in terms of women's rights?
1. Publicize positive news about women pilots, professional women, etc.
2. Highlight how Islam gives a lot of rights to women
3. Vigorously defend against mis-reporting on women's rights in Pakistan
4. Write and complain to media outlets that propagate negative stereotypes
5. Launch a 'charm offensive' on 'softer side' of Pakistan (cultural shows, fashion shows, etc.)
6. Change behavior of Pakistani men towards women though educational campaign in Pakistan
7. Repeal Hudood Ordinance and other laws that restrict women rights
You can get to the polling area by clicking on the responses in the sidebar, or directly by clicking here.
I know you are all more tech savvy than me and could skew the results by voting multiple times if you wanted to. I hope you won't (it would be dishonest, unfair, and it will devastate my faith in our potential for real democracy). But if you do want to influence the results, please, by all means ask your friends to also vote!