It is greeting time – the time for sending Eid greetings to near and dear ones.
People are in the mood to splurge, Eid cards are at display in every nook and comer of bazaars in addition to the regular sale points like book stores and stationary shops. The display reflects the mood. The bookstores have removed the books and hot selling magazines to create space for the greeting cards in show windows.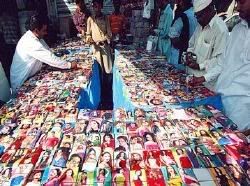 With so many shops (and makeshift stalls) selling the Eid greeting cards, demand still outstrips supply. They are a must buy on every one's shopping list. Every body wants to send Eid greetings to his loved ones.
"In these hard times when book industry is under economic crunch and a common reader does not have the potential to buy a book and those who have money do not want to buy and (read), says a book seller Ataur Rehman Khan, "greeting cards are what keeps us going."
Such important card sending occasions (like Eid, Christmas and New Year Eve) not only give boost to the greeting card industry but also to postal and private courier services. And of course the exchange of feelings and greetings on a massive scale revive old relations and spread love in the society.
The messages printed on the greeting cards are poetic, passionate, persuasive and very comforting. The cards available in the market meet the requirements of all the conceivable situations in the human relationship. There are in endless varieties, designs, shapes and sizes from simple messages like 'I wish you were here with me on this Eid' to such questions as I often wonder what made us fall in love and more?
Then there are formal and official greeting cards from politicians, government agencies, commercial institutions and non-governmental organizations. They carry the messages from the senders; along with the good wishes and greetings. One of the cards that I have received is from the Chairman of an NGO. Almost the entire manifesto of the NGO is printed on the card. I might not have read the material if I was given a leaflet about the NGO but the card is so beautifully and aesthetically presented that not only I read it but it touched my heart too. The greeting card shows how our cultural heritage values architectural styles, fashion designs and form visible record of our history. Most of the cards are work of art that is collector's delight.
Many people have passion for collecting greeting cards. Zafar Zaidi, a friend of mine, told that "about 20 years ago I started collecting cards, now when I go through the cards I had received earlier they give me sheer pleasure." I was amazed to see the huge collection (though did not read what was written in them). What is stronger, whole-some and useful for life in latter years than some good memories?





The best card I had the pleasure to receive last Eid was from a foreign volunteer working "to fight against poverty in rural areas in Pakistan." It was beautiful. Simple pattern was embroidered on a small piece of cloth in multicolor and studded with golden stars that were pasted on the paper folder with a space to write a message. The good thing is that the sale from these cards was distributed among the girls of the village who made those cards. Shopping during economically stagnant times is hard enough. But buying such hand made cards for loved ones would certainly make them feel special.
The advent of the Internet has added another cultural dimension in our society – cyber greeting through the Internet and or cell phones. There are so many sites on the World Wide Web offering free cyber greetings for all occasions including Eid from where users can select, customize and send cards with a few clicks.
But having a hard copy is different. I still wait for cards to be delivered by postman before Eid. How other people prefer to receive greetings on festive occasions; digital or hard copies?
S A J Shirazi is a Lahore (Pakistan) based writer. He has authored two books (Izhar, Ret Pe Tehreer) and translated Din Mein Charagh by Abbas Khan into English. His blog is here.