This post was last updated with the results of 2009-10 Quaid-e-Azam trophy in which Karachi emerged as the new National Champions. The article also contains a brief history of the tournament since 1953 and a trivia of records.
Quaid-e-Azam (QEA) Cricket Trophy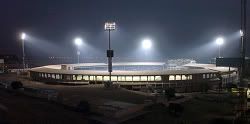 – Pakistan's premier first class cricket tournament – concluded in Multan today. Karachi Urban regained the National Cricket title for the city after a gap of 5 years. Sialkot, the champions of last year, became the runners up of this year. The margin of victory in the finals was 8 wickets and scorecard can be viewed here.
The tournament is divided into two leagues; Gold and Silver. Every year, the last team of Gold league is relgated to Silver League and the top team of Silver league is promoted to Gold League.
For 2006-07 season following are the final rankings:
Photo to the right below is Karachi Urban Captain Hassan Raza.
Gold League
1. Karachi Urban
2. Sialkot
3. Rawalpindi
4. Peshawar
5. Faisalabad
6. Karachi Harbor
7. Lahore Shalimar
Silver League
1. Multan
2. Islamabad
3. Lahore Ravi
4. Abbotabad
5. Hyderabad, and
6. Quetta
Inaugurated in 1953, this premier tournament of Pakistan is named after Quaid-e-Azam (The greatest Leader) Mohammad Ali Jinnah and this year the tournament was played for the 51st time. Winners of QEA trophy are considered the national cricket champions of Pakistan. 
In its 51 editions following teams have won the tournament.
Karachi teams:Â 20 times
National Bank of Pakistan: 6 times
Pakistan International Airlines: 5 times 
Lahore teams and United Bank Limited: 4 times each
Peshawar, Punjab, Bahawalpur, and Pakistan Railways: 2 times each 
Faisalabad, Sialkot, Habib Bamk Limited and Agriculture Development Bank of Pakistan: 1 time each
Quaid-e-Azam Trophy Trivia
Bahawalpur's Cricket heritage and Quaid-e-Azam Trophy: Very few people today know about Bahawalpur's glorious past as a major cricket center of Pakistan. It has the honors of winning the Pakistan's National Cricket Champion title 2 times in 1953-54 and 1957-58. Infact Bahawalpur won the inaugural Quaid-e-Azam trophy in 1953. Nawab of Bahawalpur patronized cricket in the princely state of Bahawalpur and the state team hired talented players from Karachi and other areas of Punjab. I was surprised to see big Pakistan national team names of 1950s like Hanif Mohammad, Wazir Mohammad, Khan Mohammad, Alimuddin, Maqsood Ahmed etc playing for Bahawalpur. Take a look at these big shots of Pakistan cricket in the score card of 1953 Quaid-e-Azam trophy final which was played between Bahawalpur and Punjab
A 1960s Photo of Hanif Mohammad in action is given to the right above.
When Hanif Mohammad scored 499 runs in a Quaid-e-Azam Trophy Match: Fortunes took a turn for Bahawalpur in 1958-59 QEA trophy when they faced Karachi in the Semi Finals. This year Hanif Mohammad was playing for Karachi instead of Bahawalpur and scored 499 runs after batting for 10 hours and 36 minutes. He also scored 64 boundaries. This remained a World Record for highest individual score by a batsman for 36 years. Three brothers Wazir Mohammad, Hanif Mohammad and Mushtaq Mohammad represented Karachi in this match. Score card of this historic Quaid-e-Azam trophy match is here. Brian Lara broke Hanif Mohammad's record in 1994 by scoring 501 notout.
The famous politician and the spiritual leader of Hurs, Pir of Pagaro, Shah Mardan Shah captained Sindh's Cricket team in QEA trophy of 1953 against Bahawalpur. This was Pir Pagara's first and the last first class match. Take a look at the score card of this match here.
A current photo of Pir of Pagaro is given to the left.
The first hat-trick of Pakistan's first class cricket was made by Abdul Wahab in a Quaid-e-Azam trophy final of 1954-55. Abdul Wahab was playing for Karachi which beat Pakistan Combined Services to take the title. Score card is here, and I also want to mention that Abdul Wahab is my grand father :)
Fastest 50 of Pakistan's First Class Cricket was also made in a Quaid-e-Azam trophy match. On November 19, 2000, wicket keeper Batsman Khalid Mahmood of Gujranwala was in a particluar agressive mood. Opponent team was Sargodha and Khalid Mahmood hammered Sargodhian bowlers to reach 50 runs in just 13 minutes by facing only 15 balls. Score card of that match is here.
Following table gives the season by season break-up of Quaid-e-Azam trophy winners and runners-up.
SN

Year

Winner

Runner-up

1

1953/54

Bahawalpur

Punjab

2

1954/55

Karachi

Pakistan Combined Services

3

1956/57

Punjab

Karachi Whites

4

1957/58

Bahawalpur

Karachi C

5

1958/59

Karachi

Pakistan Combined Services

6

1959/60

Karachi

Lahore

7

1961/62

Karachi Blues

Pakistan Combined Services

8

1962/63

Karachi A

Karachi B

9

1963/64

Karachi Blues

Karachi Whites

10

1964/65

Karachi Blues

Lahore

11

1965/66

Karachi Blues

Lahore Greens

12

1966/67

Karachi

Pakistan Railways

13

1967/68

Karachi

Pakistan Railways

14

1968/69

Lahore

Karachi

15

1969/70

PIA

PWD

16

1970/71

Karachi Blues

Punjab University

17

1972/73

Pakistan Railways

Sind

18

1973/74

Pakistan Railways

Sind

19

1974/75

Punjab A

Sind A

20

1975/76

National Bank

Punjab A

21

1976/77

United Bank

National Bank

22

1977/78

Habib Bank

National Bank

23

1978/79

National Bank

Habib Bank

24

1979/80

National Bank

PIA

25

1980/81

United Bank

PIA

26

1981/82

National Bank

United Bank

27

1982/83

United Bank

National Bank

28

1983/84

National Bank

United Bank

29

1984/85

United Bank

Pakistan Railways

30

1985/86

Karachi

Pakistan Railways

31

1986/87

National Bank

United Bank

32

1987/88

PIA

United Bank

33

1988/89

ADBP

Habib Bank

34

1989/90

PIA

United Bank

35

1990/91

Karachi Whites

Bahawalpur

36

1991/92

Karachi Whites

Lahore

37

1992/93

Karachi Whites

Sargodha

38

1993/94

Lahore

Karachi Whites

39

1994/95

Karachi Blues

Lahore

40

1995/96

Karachi Blues

Karachi Whites

41

1996/97

Lahore

Karachi Whites

42

1997/98

Karachi Blues

Peshawar

43

1998/99

Peshawar

Karachi Whites

44

1999/00

PIA

Habib Bank

45

2000/01

Lahore Blues

Karachi Whites

46

2001/02

Karachi Whites

Peshawar

47

2002/03

PIA

KRL

48

2003/04

Faisalabad

Sialkot

49

2004/05

Peshawar

Faisalabad

50

2005/06

Sialkot

Faisalabad

51

2006/07

Karachi Urban

Sialkot

52

2007/08

Sui Northern Gas

Habib Bank

53

2008/09

Sialkot

KRL

2009/10

Karachi Blues

Habib Bank Ltd
An interesting trend in Pakistan's domestic Cricket: From the above table, an interesting trend is very obvious. While the cricket scene in Pakistan for the whole 1950s, 60s, 70s and to some extent 90s was dominated by Karachi and Lahore teams only, in the past few years cricket's center of gravity seems to be shifting to smaller cities. Faisalabad, Peshawar and Sialkot have now won national title 4 times and reached the finals 10 times in the past 10 years. Karachi and Lahore who always got the privilege of sending atleast two teams each to National tournaments, now struggle to send players to National team which mostly comprises of players from smaller cities. Infact Lahore will not be able to send a single team next year in Gold league as both of its teams have been relegated to silver league, where as Multan will take Lahore's spot.
Agha Zahid's contribution: Agha Zahid was born in Lahore in 1953 and had a distinguished first class career. I want to mention his name because this guy has probably played the most number of first class matches from Pakistan. (I am not 100% sure though). He has a 23 year long distinguished first class career and scored 13484 runs at 36.84 and took 108 wickets at 32 a piece. He was unlucky to have played just one test match for Pakistan but he has the record of playing in Quaid-e-Azam trophy for most number of years.