Fourth edition of National Twenty20 Cup concluded in Lahore today with Sialkot Stallions retaining the Champions title for third year running. Runners Up Karachi Dolphins were left wondering about their luck and skills as they have now appeared in 3 Finals in the past 4 tournaments and lost everytime.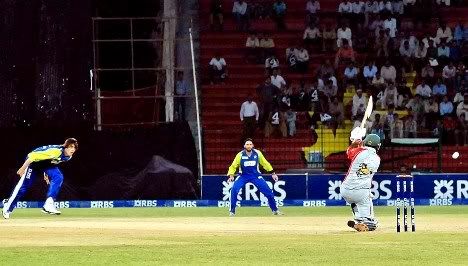 Final Score: Karachi Dolphins (125/9), Sialkot Stallions (126/3). Detailed Scorecard here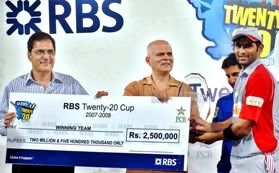 Following have been winners and runners-up of 4 twenty-20 national tournaments that have been played in Pakistan so far.
2004/05: Winner: Faisalabad Wolves, Runners Up: Karachi Dolphins
2005/06: Winner: Sialkot Stallions, Runners Up: Faisalabad Wolves
2006/07: Winner: Sialkot Staliions, Runners Up: Karachi Dolphins
2007/08: Winner: Sialkot Stallions, Runners Up: Karachi Dolphins
13 teams from all over Pakistan took part in this year's tournament. They were divided into 4 pools with winners of each pool qualifying for semi-finals. The points table at the end of pool matches looked as below.
Semi Final 1: Karachi Dolphins (69/1) beat Islamabad Leopards (68)
Semi Final 2: Sialkot Stallions (117/6) beat Lahore Lions (111/6)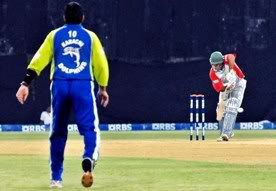 Karachi and Sialkot both had a star-studded team. To me, atleast on paper Karachi's team looked stronger with services of 6 players who have representated Pakistan's national team.
Karachi was lead by Shahid Afridi. It also had Pakistan's 5 other ODI players: Fawad Alam, Sohail Khan, Naumanullah, Khurram Manzoor and wicket keeper Sarfraz Ahmed.
Sialkot was lead by Pakistan's national team captain Shoaib Malik and it also had the services of Pakistan's 3 national ODI players Mansoor Amjad, Abdur Rehman and Kashif Raza and 1 test player Qaiser Abbas.
Shoaib Akhtar ki wapsi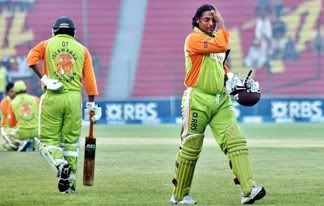 Ofcourse a big news for this year's tournament has been the return of Shoaib Akhter. He played for Islamabad Leopards and his performance remained as follows
v Karachi Dolpins: 4 runs in batting and 3-0-22-0 in bowling.
v Multan Tigers: did not bat and 4-1-14-1 in bowling
v Peshawar Panthers: 3 runs in batting and 4-0-30-1 in bowling