Adil Najam
Today, November 20, is Universal Children Day. I wanted to post this picture to commemorate the day because it depicts childhood as childhood should be, not as it often becomes.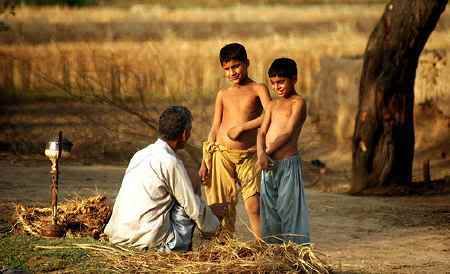 The original caption tells us that the old man is telling stories to his grandchildren and that this was taken near Sumandri in the Punjab. The expression on the children's face is priceless (click on picture to see higher resolution). Even though we cannot see the grandfather's face, it is clear that he is enjoying his time with his grandchildren as much as they are with him.
This picture is another by Maxloxton, one of the many wonderful young photographers whose works can be found on Flickr.Com. His work has been featured on ATP earlier too in a post titled Badshah-i-Jahan.
It would be unfair, however, if we totally ignored today what childhood really looks like for too many Pakistani children. I wanted, therefore, to repost the very heart-moving video and song based on Ibn-e-Insha's wonderful poem, 'yeh bacha kis ka bacha hai', that was first sent to us by Roshan Malik. Let me urge people to read the entire post we had done on this video and the theme of child labor; also see Bilal Zuberi's earlier post on the brick kiln workers. Enjoy. And even if you do not, please think and ponder on what this video tells us.
Note: This post was originally published at ATP on Universal Children's Day, 2006.