Being away from Pakistan for many years, I have missed many small things which I always used to take for granted. One such small thing is the joy of writing with a fountain pen.
A Fountain pen was first patented in US in the year 1884 and writing with it eeamined in vogue until quite recently but these days writing with it has become a lost art. I have shopped around for fountain pens in US and the cheapest ones I have found cost around $15 and they write so bad that Pakistani 'Eagle' brand can beat then anytime and anyplace. Eagle is an international brand but their product in Pakistan was one of the best or at least it feels like it after all these years of nostalgic memories.
Twenty years ago a Pakistani 'Eagle' used to cost around rupees four. I preferred to write Urdu with Eagle because its nib was not that fine. For writing English, I had a 'Made in China, 'HERO' brand pen which was priced around rupees eleven. Then there were some really cheap fountain pens which gave wonderful Urdu writing. One of them was 'RAJA' (The Prince) fountain pen which cost around a princely sum of rupees 2 only. Another cheap fountain pen was Dollar which also cost around rupees three.
I had my Raja pen's nib cut at an angle (Z-nib) to write the 'Nastaleeq Urdu script. I never mastered the art of writing 'Nastaleeq Urdu' or calligraphy but it was fun to at least try writing it.
We used a 'z-nib' fountain pen to write Sindhi also. I remember that some of my class fellows used 'z-nib' to write complete exam papers of Sindhi. They however, always struggled to finish the paper in time too.
For those of us who graduated high school from Sindh Board may remember that one question in Sindhi salees (easy) board exam was about writing a Sindhi poem in 'khush-khat' (good hand-writing). This question was repeated every year and everyone practiced very hard in it to score some sure-shot marks. I used a 'z-nib' fountain pen to write that poem.
Somehow improving hand-writing has always been a big deal in Pakistan's school system. The generation before mine used to write on a washable wooden board (takhti) and used ink-dip calligraphic pens for Urdu. We didn't use 'takhti' but up to grade X we were not allowed to use ball-point pens as it was supposed to destroy our hand-writings. This strict rule relaxed a bit in Grade XI and XII but I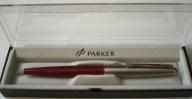 remember a certain teacher in Grade XII used to throw ball-points out of the class window if he saw anyone writing with it.
Writing with ball-points and markers for the past many years made me crave for fountain pens so much so that on a trip to Taiwan in 2003, fountain pens were the first and the last shopping I did. I now proudly own a collection of fountain pens and I write with them whenever I crave.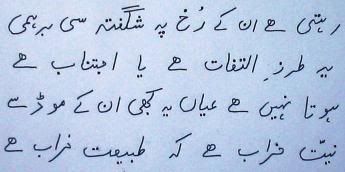 Today while editing this article I practiced my Parker again and copied the above 'sher' (A poem verse) on a white sheet of paper. While my hand-writing is no way close to good or calligraphic my pen however is a perfect Urdu scripter.
Hopefully on my next trip to Pakistan I'll buy a few more fountain pens.