Asma Mirza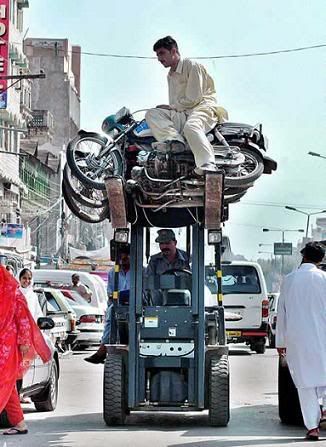 Photo news stories used to be a regular feature of ATP. See here, here and here. I am reviving the tradition here. Oh, but the title should not be mixed with akhbar-e-jahaaN's series of '3 auraten 3 kahaniaan'. If you are looking for fiction, you probably won't find it here. Below are life moments as they come: visually.
The photo to the right is courtesy of Dawn. It shows motorcyles parked illegally being lifted in Rawalpindi. While supremacy of law is being upheld, I am not sure why the supermanly act atop forklift blades is going on. Who is this guy? Most likely he is the one who puts motorcyles on forklift blades but then he is either too lazy to get back to the seat or he is up there to make sure motorcycles do not fall.


The photo to the left was published in Daily Express couple of days back. Self explanatory it is. A scene of Lahore high court. The elderly man enjoys his quick sooota  (cigarette's puff) right under the No Smoking Zone shade. A ban's enforced by Supreme Court of Pakistan at all public places and transportation in Pakistan.
So there you go. More food for thought.