Asian Broadcasting Network (ABN) is a non-profit organization serving the south Asian community in Chicago area since 1997. ABN also hosts an Urdu language talk radio show which goes on air every sunday from noon to 3 p.m.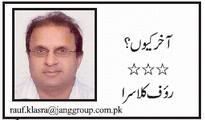 Recently ABN featured a very enlightening interview with Pakistani journalist, Rauf Klasra. The interviewing panel consists of Dr.Mujahid Ghazi, Jibran Ilyas, Aqil Sajjad and Sabahat Ashraf.
The topics discussed in the interview range from Lahore incident to recent political situation in Punjab. He also talks about the current status of Long March and his assessment on the next events which may put Pakistan into one of the greatest turmoils of our history. He also elaborated the 'Un-Holy' alliance between the most powerful sections of Pakistani society viz. Army, Civil Bearucracy, Politicians, Judiciary and Media. He also talks about how this nexus was broken on March 9th, 2007 etc and how media has sided with the judiciary since then.

Rauf Klasra also provides an insight into the awareness that broadcasting is providing to the people in villages and how it is bridging the gap between urban and rural political awareness. He gives some concrete evidence of a slow change that is happening in rural masses and which hopefully would bring good for our nation in the next elections. Discussion on the concerns of the people of undeveloped areas of Sindh, Balochistan and NWFP against the domination of Punjab and unequal distribution of resources also happens in this interview. Finally Klasra gives his opinion on where to look for an 'Alternative Leadership' for Pakistan within Pakistani politics.
Please listen to the Interview here. It is approximately 1 hour long.
Credits: www.abnchicago.org
ATP's Other Related Posts
1. Tenth Anniversary of Asian Broadcasting Network – Urdu Talk Radio