A mini replica of Karachi's famous 'teen (3) talwar' monument has emerged in Mirpur Khas. In the photo below Karachi's three-sword landmark is to the left and Mirpur Khas replica to the right.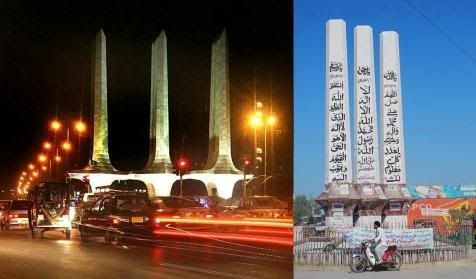 What do our readers have to say about architectural copies of landmarks or architectural plagiarization?

I understand Mirpur Khas is a much smaller city than Karachi and has much limited resources. But inspite of lack of funds to build a landmark of grand scale, some ingenuity of design must be practised.
This particular landmark design is just an example. Through this post, I want to raise a general question on whether copying a landmark is OK or does it leave a bad taste showing prevalent mediocrity in the society.
To me personally it leaves a bad taste. This is mediocrity and lack of ingenuity.
Following two photos are another example of copycat architecture in Pakistan. First photo is Shaikh Zyed Center in Punjab University Campus, Lahore and the photo below it is Shaikh Zayed Center at Karachi University. Both buildings are identical. I must admit that to me these buildings are beautiful and symmetric. They are far from being ugly but I do have this wish that if somebody was spending millions of rupees on construction of these huge buildings, they could've made their design unique too.
Shaikh Zayed Center, Punjab University, Lahore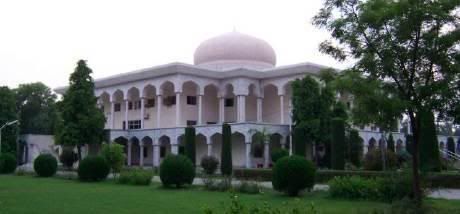 Shaikh Zayed Center, Karachi University, Karachi
Before ending, I realize the grammatically correct title of the post should've been "teen talwareN aur teen khanjar" Or may be a more poetic one such as 'talwar teri aankhen, khanjar teri nigaaheN' but I've kept the title as it is to go with the common name of the monument which is 'teen talwar'.
Photo Credits: Raja Islam and Jehangir Khan