Many of our readers may remember West Indies cricket team as this mighty force which was unstoppable in any form cricket in the 70s and 80s. At one point in time WI had a win percentage of more than 80% in One Day Internationals (ODIs).
Today when Pakistan beat India, a statistical landmark was reached for Pakistan which happened after a wait of 35 years. Pakistan's win percentage (55.65%) in ODIs is now better than that of West Indies (55.52%). The last time Pakistan had a better win% than West Indies was in 1974, when both countries had played only 3 and 2 ODIs respectively. Pakistan has now played 705 ODIs and West Indies 619. Therefore it took Pakistan 702 ODIs and 35 years to finally get ahead of West Indies in all time ODI Win Percentages.
While all kinds of statistics can be thrown out there to prove one team is better than others, I believe that Win percentage of a team taken all over its ODI history is the best way to judge a team's all-time cricketing prowess.
Following are win percentages of major cricket playing countries in ODIs with Pakistan surpassing West Indies for the first time since 1974.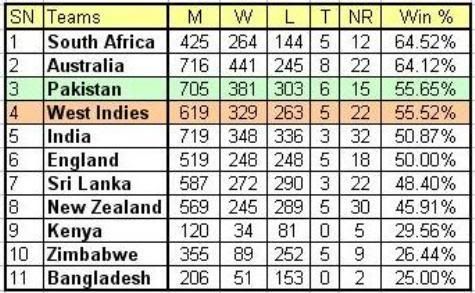 Shoaib Malik Completes 5000 ODI Runs:
In Pakistan vs India match today, another milestone was reached when Shoaib Malik became the 10th Pakistani and World's 54th batsman to reach 5000 runs in ODIs.
Following is the list of Pakistani batsmen who have scored 5000 or more runs in ODIs. Number in parenthesis is their world rank in terms of highest career runs in ODIs. All numbers are updated as of September 27, 2009.
1 (4). Inzamam-ul-Haq: 11739 runs at an average of 39.52
2 (10). Muhammad Yousuf: 9405 runs at 42.94
3 (13). Saeed Anwar: 8824 runs at 39.21
4 (25). Javed Miandad: 7381 runs at 41.7
5 (26). Saleem Malik: 7170 runs at 32.88
6 (34). Ijaz Ahmed: 6564 runs at 32.33
7 (42). Rameez Raja: 5841 runs at 32.09
8 (44). Shahid Afridi: 5736 runs at 23.22
9 (45). Younis Khan: 5643 runs at 33.79
10 (54). Shoaib Malik: 5009 runs at 35.27
Rana Naved's 100th ODI Wicket
After his recent recall, Rana Naved-ul-Hasan also took his 100th ODI Wicket. He thus became Pakistan's 15th and World's 92nd bowler to do so. Following is the list of Pakistani bowlers with 100 or more ODI wickets in career. Number in parenthesis is their world rank in terms of highest career wickets in ODIs
1 (2). Wasim Akram: 502 wickets at 23.52 runs/wicket
2 (3). Waqar Younis: 416 wickets at 23.84 runs/wicket
3 (12). Saqlain Mushtaq: 288 wickets at 21.78 runs/wicket
4 (16). Shahid Afridi: 262 wickets at 34.62 runs/wicket
5 (18). Abdul Razzak: 250 wickets at 31.15 runs/wicket
6 (26). Shoaib Akhtar: 223 wickets at 23.86 runs/wicket
7 (35). Imran Khan: 182 wickets at 26.61 runs/wicket
8 (36). Aaqib Javed: 182 wickets at 31.43 runs/wicket
9 (40). Mushtaq Ahmed: 161 wickets at 33.29 runs/wicket
10 (60). Abdul Qadir: 132 wickets at 26.16 runs/wicket
11 (65). Shoaib Malik: 128 wickets at 36.71 runs/wicket
12 (68). Azhar Mahmood: 123 wickets at 39.13 runs/wicket
13 (73). Mohammad Sami: 118 wickets at 28.44 runs/wicket
14 (61). Mudassar Nazar: 111 wickets at 30.91 runs/wicket
15 (92). Rana Naved-ul-Hasan: 103 wickets at 27.52 runs/wicket