This photo was taken on April 22, 1955 and it shows American actress Ava Gardner at Lahore Railway Station. She was in Lahore for the filming of Hollywood Movie 'Bhowani Junction'. When Ava came to Lahore, there was only one reasonable hotel in Lahore. It is still there – Falletis. The suite in which Ava stayed has been named after her – "The Ava Gardner suite". In it's lounge one could see a beautiful large size, black & white portrait of Ava Gardner smiling.

'Bhowani Junction' is the name of a novel by John Masters which came out in 1952.
In mid 50s Hollywood decided to make a movie out of it. The movie is set amidst the turbulence of the British withdrawal from India. It is notable for its portrayal of the Eurasian (Anglo-Indian) community, who were closely involved with the Indian railway system. The film was directed by George Cukor, and was shot on location in Lahore, Pakistan. It starred Ava Gardner as Victoria Jones, an Anglo-Indian nurse in the British Army, and Stewart Granger as Colonel Rodney Savage, a British army officer.
I found following review of movie plot at The Internet Movie Database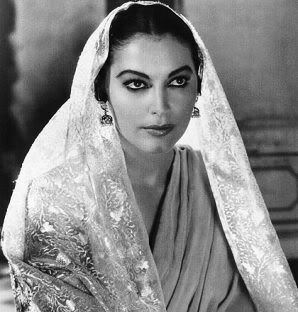 The town of Bhowani is a railroad junction and both the Congress Party and the Communist Party are doing all kinds of sabotage to help the British quickly get out of India. Of course each is doing it for their own reasons. In the movie, two people who may have given the outstanding performances of their careers are Ava Gardner and Bill Travers. Both play bi-racial people who don't fit in either society. But they react differently. Gardner is going through a whole lot of angst, really seeing both the British and Indian point of view.

Bill Travers is the railroad station manager and his whole life is his job. He focuses narrowly on that and his tunnel vision leaves him oblivious to the momentous changes around him. Except for the fact that when the British leave he might lose that little piece of authority where he is, that which gives him stature in the Raj society.
Photo to the left is the book cover image of the novel 'Bhowani Junction'.
In the movie, the issues are complex, but in the hands of a great director like George Cukor the characters and their struggles become real and even more important, the audience becomes interested. Stewart Granger who was the British Colonel in charge of the whole mess in Bhowani, said that Bhowani Junction was one of the few films he was really proud to be associated with. He has a struggle to, he really does see the Indians as human beings and not just "wogs." He's quite knowledgeable about their customs and at one point utilizes that knowledge to unjam that railroad terminal.
Following two images are the movie posters of Bhowani Junction. In the first poster below one can see the wordings 'Filmed in Pakistan' right under the title in yellow which says Bhowani Junction.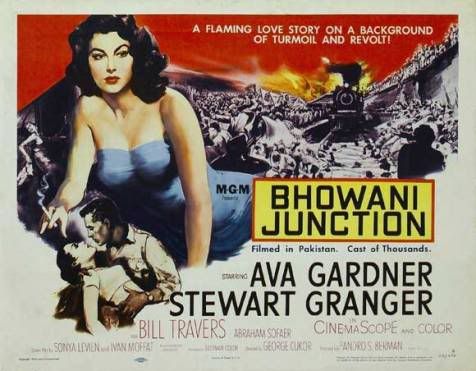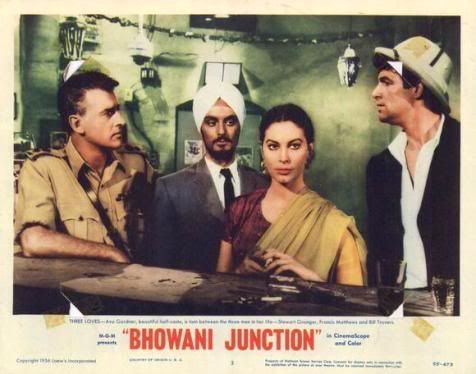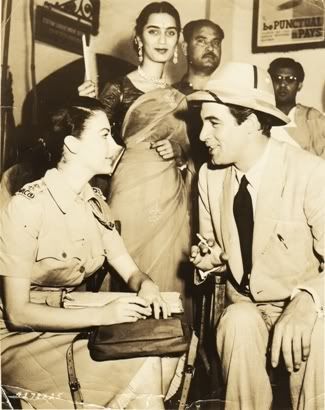 We are especially proud to feature the photo to the left from Bhowani Junction filming days. It comes from the personal collection of Zohra Arshad Mahmood, who is seen standing in this photo. Photo credits go to her son and my friend Imran Mahmood, who generously agreed to share this photo with us.
Pakistan's famous writer Mustansar Hussain Tarar's has mentioned atleast at two places and dedicated a whole chapter in his book 'raakh' on the making of Bhowani Junction. While I could not tell if all of account is real or fictional, there is certainly some degree of truth to it.
Photo Credits:
(1) Bettmann/Corbis.com
(2) Ravindra Bhalerao
(3) The Daily Telegraph