Today, May 13, 2011, is the 150th anniversary of railways in Pakistan as the first track that became functional in areas which now comprise Pakistan was inaugurated on May 13, 1861 (this seems to be the season for 150th anniversaries!).
The photo above shows railway tunneling in Bolan Pass. The photo is credited to Agha Waseem.
The section that was inaugurated on this day 150 years ago was the 173 km long track between Karachi City and Kotri. At ATP we've already covered the inaugural event with a dedicated post (here) therefore I will not go in too much detail. I'll rather delve into what Pakistan Railways could've been and what it could still be.

Following is an advertisement of Pakistan Railway which was published on the 1953-54 year book of PR by the Railway Division, Government of Pakistan.

I believe most of our readers know that Pakistan Railway is one department which has been in red for several years. Infrastucture at several places is literally 150 years old with a dire need of rehabilitation. Rolling stock has become a laughing stock with failing engines and aged coaches.
The photo below shows an all-steel French rake of 8-Down Tezgam on its maiden run at Lahore in 1953. Tezgam has a Karachi-Rawalpindi route.

What needs to happen in my opinion is the immediate rehabilitatation of track starting with Karachi-Peshawar and Sukkur-Quetta-Zahidan routes. Freight and cargo should be handled by railway instead of road transport because that is where the sustainable income for Railway can come from. I am sure it is easier said than done because over the years road and highway infrastructure in Pakistan has become pretty decent where as Railways in comparison has declined. Therefore why would a trader or a company move its freight business to railways unless Railways can better itself over road transport and provide a healthy competition. Since Railways is a Govt owned department therefore patronage from Government will be needed for its upgrade just like National Highway authority has successfully done for major highways in Pakistan.
Following is another historic photo showing an all steel coach from France getting unloaded at one of the new jetties of Karachi Port in 1952.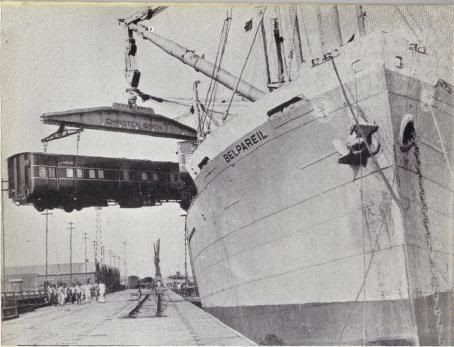 One more aspect that I want to talk about is the tremendous potential of tourism that Pakistan Railway has to offer. Several sections of Pakistan Railway especially those in Khyber-Pakhtoonkhwa and Baluchistan are Engineering and architectural marvels that can bring tourism to Pakistan from far and away. Sounds like a far cry right now but with ample security and comfort for passengers it is indded a possibility. Up until few years ago Pakistan was also one of the last few destinations in the World with working steam engines. Tourists used to flock here from all over the world to take rides in last working steam trains. This tourism can be revived with some Government patronage – I would also go as far as to suggest something like Orient Express Pakistan on Zahidan-Quetta-Lahore-Peshawar route.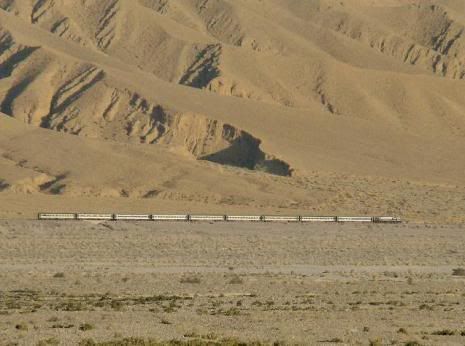 The photo above is a distant shot of a train between Sibi and Mach. The photo is credited to Agha Waseem.
On another related topic, couple of months ago there was news that the electrified rail section between Lahore and Khanewal is being torn down because there is not enough electricity and electric locomotives to run electric trains. This was a sad news that hit close to home. I know a cousin of mine who worked as an electrician on the construction of Lahore-Khanewal electrified section in the 1960s. So many people's hardwork had gone in keeping this wonderful infrastructure built and kept. It feels sad to see it falling apart.
I want to request to our readers that whenever they take ride in Pakistani trains – take care of is rolling stock and infrastructure. No litter and no political graffity on trains. It is one heritage which is worth preserving and be proud of.
And another thing I am proud of is how over the years at ATP we have been able to build an encyclopedia of Pakistan Railways. Please see the list of our posts related to Pakistan Railways below and consult any of these for more information.
ATP's Posts on Tramways and Railways in Pakistan:
1. Journeys to Remember: Quatta-Lahore by Rail in 1925.
2. Journeys to Remember: Karachi-Peshawar by Rail in 1950s
3. Ghora Tram: Historic Horse Tram Returns to Gangapur
4. Karachi Tramway of Yesteryears
5. Khyber Pass Railway
6. Bolan Pass Railway
7. The Trans-Balochistan Railway
8. Changa Manga Forest Railway
9. Lansdowne Bridge, Sukkur
10. Railway Bridge on Indus at Attock
11. Khojak Tunnel
12. Chappar Rift
13. Karachi Circular Railway (KCR)
14. Zhob Valley Railway (ZVR)
15. How the First Locomotive Reached Lahore
16. 3000hp Iron Horses of Pakistan
17. Lahore Rapid Mass Transit Rail Project
18. A Phoenix Rises From the Ashes of Bakhshapur
19. ek masla hai… A Railway Runs Through It
20. Ava Gardner in Lahore for Bhowani Junction
21. The Meter-Gauge of Sindh
22. Indus Flotilla Company
23. Karachi to Kotri: First Railways in Pakistan
24. Pakistan Railway on the West Bank of Indus
25. SPS#3157: Pakistan's Gift to the People of Britain
26. List of Railway Stations of Pakistan