Adil Najam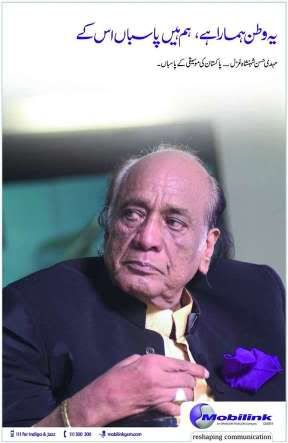 In my August 12 ATP post I had written about this wonderful ad from Mobilink and the even more wonderful song from Mehdi Hasan that it was based on. I had mentioned how, for me, it is my all-time favorite Pakistani milli naghma and I simply cannot hear it with getting goosebumps, and more.
In a comment sabizak mentioned that there was also a video version of this. I did not know that and began looking for it on the web. I just found it. You can view it here. At the center of the page the song should be the only one under 'video list.'





I have been listening to and watching this song repeatedly since I found it some half hour ago. This version does not seem to have the entire song. My favorite line (hum tou mehz unwaaN thay, asl daastaN tum ho…) is missing, for example. However, the other amazing line (yeh watan amaanat hai, aur tum ameen loogo..) is very much there.
I had always loved the old PTV version – with the screen split in half, Khan sahib with his harmonium on the left half of the screen and black and white still pictures flashing on the right. But this video is an amazingly powerful one, for different reasons.
I am not ashamed to say that the first few times I replayed it my eyes swelled up. Not just because of what the song means to me, but mostly because the video has evocatively included Mehdi Hasan into the video… sitting there on a wheel chair, tears glistening in his eyes, the lines on his face not even trying to hide the rush of unrestrained emotions, memories, hopes, fears, and more.
What a wonderful tribute, with what a wonderful song, to what a wonderful artist!
P.S. For those who may not know, and as one sees in this video, Khan sahib suffered a paralytic stroke in 2005 and his health continues to be a grave concern for his many admirers.