Adil Najam
I recieved a couple of emails with this picture today, and then saw it poste by Vaqas on Metroblog Lahore (see earlier picture here). A great picture by Awais Lodhi. We at ATP have a long-standing fascination with rickshaws (here, here, here, here an here). But, this, of course, is about political commentary, not just about rickshaws.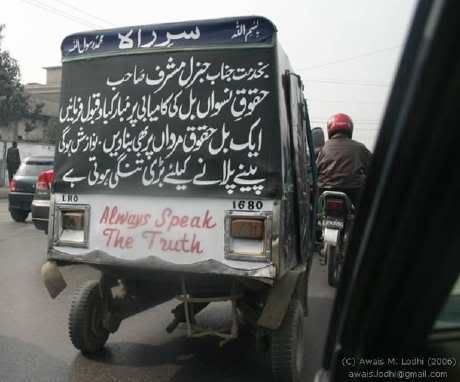 My best attempt at a translation of the 'writing on the rickshaw' is:
Addressed to Honorable General Musharraf Sahib. Accept my congratulations on the passage of the women's rights bill. Now, please, also give us a bill on Men's rights. We will be greatful. It is very difficult to drink these days.
Must confess, I am not fully sure how the last line fits. Please suggest a better translation if you will. Or offer commentary on this commentary.