Guys, how about these classic Cricket Tournament rules that many of us had to follow in Street Cricket of Pakistan. I've personally written several such sheets of street cricket rules for tournaments therefore I for one, can very much relate to these rules and the logic/thinking that goes behind each of them. We can chat about those in comments section. A quick announcement for our English readership that translation of these rules is given after the Urdu text.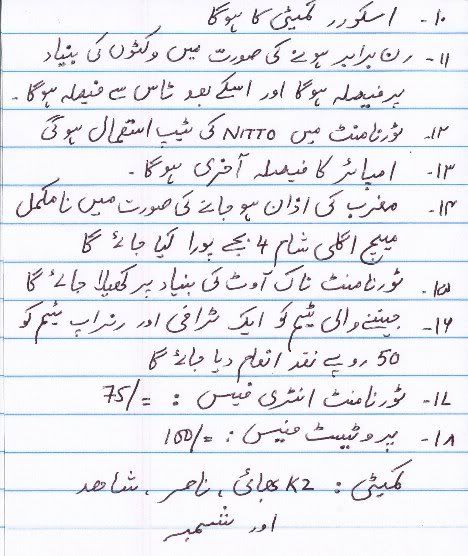 Here is how the rules read in English
K2 Brother Cricket Tournament (Tape Tennis)
Where: Sumbul Street
When: Inauguration Match on March 23.
Tournament Rules:
1. One team will consist of 8 players
2. One inning will be 8 overs long
3. Matches will start every evening at 5 sharp
4. Walk Over Time: 5:15 p.m.
5. Toss will be conducted by the committee
6. It is mandatory to place 2 fielders behind the wicket keeper.
7. Runs from over throws and byes will be allowed.
8. Runs from Leg-byes will not be allowed.
9. A direct hit in a house will be considered 'Out' no matter if the house was located outside the boundary line.
10. Scorer will be appointed by the committee
11. If the score of two teams ends up equal then match will be decided on the basis of wickets lost and if wickets are also equal then a toss will be conducted.
12. NITTO brand electric tape will be used in the tournament
13. Umpire's decision will be final
14. If Maghrib prayers time has approached and a match is unfinished then rest of the match will be played at 4 p.m. the next evening.
15. Tournament will be played on the basis of knock-out.
16. Winning team of the tournament will be given a trophy and runners-up will be given 50 Rupees cash.
17. Tournament Entry Fees: Rs 75/=
18. Protest Fees: Rs 100/=
Committee: K2 Brother, Nasir, Shahid and Shambar.
Glossary of Terms Used in this Post:
Committee: This is the organizing committee of a cricket tournament. All over Pakistan, it is simply refered to as committee.
NITTO: A Japanese Brand Electric Tape which is considered the best in trade. This is the best tape to wrap around a tennis ball to make it heavier. All quality conscious committees make sure to mention the use of Nitto tape in their tournament.
Protest Fee: This is usually imposed if a team wants to protest against an umpiring decision. The complaining party pays this fee to the committee which deliberates on the issue in a closed door session (which is usually a street corner) and reaches a decision. Protest fee is always kept higher than entrance fee to discourage putting Committee into a situation where they find themselves between a rock and a stone.
Walk Over Time: The devil is in the details. While the definition of walk over is straight forward, a team which has arrived just in time may still get a walk over called out against them if they have not reached the center of pitch. I've seen teams getting walk over when their oponent team was just entering the street and was visible to everyone but was not present on the pitch. While they kept shouting "Oye Oye, we are coming, we are here", the committee still called out walk over because they had not reached center of the pitch by 5:15 p.m. Rule of the law!
Scorer: This guy is appointed by the committee. It is very important to have a neutral scorer in Street cricket. I've played the role of a scorer in numerous tournaments. So much so that for few years I was called Ben Lawrence, after Pakistan Cricket Teams official scorer. I used to carry a thick register (scoring book) and 2 HB pencils to every match.
Prizes: Did you notice the prizes in rule#16 above. These were again from a real situation. I was in the committee of a tournament and we went shopping for prizes just a day before the Final match. We could only find the trophy for the winner but could not find any prize for the runners-up. Therefore We decided to give cash money to the runner-up team. The cost of Winner's trophy was Rs 100 and Runner's Up prize was Rs 50 cash.
During prize distribution ceremony, the captain of winning team announced that he doesn't want the winner's trophy and he'll happily take the runner's up prize of Rs 50 cash because that to him seemed more useful than a static trophy.
K2 Bhai: This is a real person. Our neighborhood street had this Cricket manager named K2 bhai. He used to smoke lots of K2 cigarettes and that is how he got his name.
ATP's Similar Posts
1. Have you Played Cricket Like this in Pakistan?
2. Remembering Tikanjoo
3. Class room Cricket
4. Khandaan XI
5. Humayun and Ramzan Cricket
6. Curry in a Hurry
7. Inter Collegiate Cricket- Adamjee vs DJ 1989
8. National Stadium, My Debut