Owais Mughal
I am back with some more Urdu press news which I find very amusing. English translation is also given under each news item.
(1) The following news is from Jang . Some of the villages around Multan are under flood waters these days and that is the reference to context here.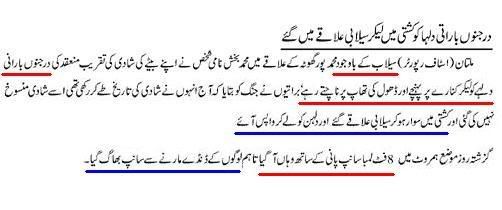 Translation: Despite floods, a person named Md Bakhsh arranged for the wedding ceremony of his son. Dozens of guests (baraati) took the bridegroom on protective dams of the river and there they kept dancing on the rhythms of drumbeats (Dhol). Guests told this correspondent that wedding date was fixed long before the floods came and they didn't want to cancel it so they took a boat, went into flood waters and brought the bride to bridegroom's house.
Futhermore, yesterday in a nearby village called 'Hamrot' an 8 ft long snake also came ashore with the flood waters. The villages however beat the snake with sticks and the snake ran away.
(2) The following news is from Nawaiwaqt and talks about how the actress Saima Khan is increasing her personal security.

Summarized Translation: Saima Khan has hired three armed with firearms body guards for her safety and for added safety she is planning to buy a new car too.
(3) The following news is from Nawaiwaqt and gives Nirma's perspective on why people prefer listening to old music over modern music.

Summarized Translation: Nirma said that people enjoy her performance on old songs more than new songs because modern music is too fast. This fast pace of music makes listeners not comprehend the words and they become confused. Older songs on the other hand have an equlibrium between music and poetry.