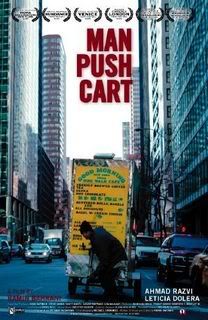 Adil Najam
A movie based on the life of a fictional former Pakistani rock star who now sells coffee from his push cart on the streets of Manhattan, with a Pakistani-American playing the lead role, has emerged, according to Dennis Lim of the New York Times as "among the most striking American independent movies of the past year" (video trailer below).
He is not alone is lavishing uncommon praise on the independent film 'Man Push Cart', produced by Nuroz Films, written and directed by Iranian-American Ramin Bahrani, and with Pakistani-American Ahmad Razvi playing the lead role. Roger Ebert, the doyen of US film critics, says: "I loved it…it is an experience.," and Alex Crawford of the BBC calls it "a terrific film, with acres of heart and humanity."
According to the movie's website:
Man Push Cart tells the story of Ahmad (Ahmad Razvi) a former Pakistani rock singer who ekes out a living selling coffee and donuts to morning commuters from his push cart in Midtown Manhattan. Ahmad supplements his income by selling bootleg porn DVDs, carefully saving his money to afford a place where he might be able to live with his estranged young son. It is a harsh, often humiliating life, but Ahmad carries on with a stoic dignity and sensitivity, seemingly determined to find his way. Then the dull routine of his life is brightened by two developments: the arrival of a young Spanish woman (Leticia Dolera) working down the street in a newspaper kiosk; and an offer of assistance from a wealthy fellow Pakistani (Charles Daniel Sandoval), who remembers Ahmad's former life as a rock star.
While Ahmad strives to pursue these two new possibilities at a better life, the film returns regularly to the act of him setting up his cart in the early morning darkness: his preparations for opening, the other immigrants who prepare the city in middle of the night, his exchanges with his customers as they buy coffee, tea and bagels from him. This gives Man Push Cart a deliberate rhythm as it explores the complex and hidden depths of the character, who we learn is desperately hanging on to his small dreams in the midst of grief and despair. The denouement of the film is utterly heartrending, yet inevitable. Ahmad's momentary glimpse of an escape from a circumscribed world closes down again and he has to pick himself up and focus on the same things he started with.
The film was completed in 2005 and has been on the 'film festival circuit.' It recieved the Critics Award at the London Film Festival, the Audience Award at the Thessaloniki Film Festival, and Ahmad Razvi received the Best Actor Award at both the Thessaloniki and the Seattle Film Festivals. While these are not the most important of such festivals, these awards are noteworthy for a small independent film and for a debut actor. Although the film did not receive any award at the 2006 Sundance Film Festival (the most important event for this genre), it recieved much critical acclaim and good reviews.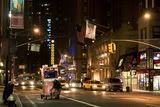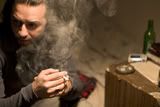 It opened commercially last weekend in New York and will open on the West Coast and elsewhere next week. No word yet on whether it will also be seen commercially outside the US, including in Pakistan.
The movie is not as much about Pakistan as it is about the immigrant experience. It is, however, an experience shared by many Pakistani-Americans. The movie is also about New York City and the particular and peculiar milieu of humanity that this city is. Ultimately, it is a movie about fighting, in this case unsuccessfully, to free oneself of the confines that fate has bound one in. In that sense, it is a movie about a human experience the is not confined to either just Pakistani-Americans nor just immigrants.
Ahmad Razvi's low key but intense and natural acting is being greatly lauded. However, it did not always come naturally. He jokes:
Sometimes Ramin [the director] would yell at me, 'Stop acting cool! This is not a Bollywood film!' he always wanted me to do less, to be still."
On Razvi, the film's promotional material says:
Over the last decade, Ahmad Razvi has been involved with a number of businesses in Brooklyn including a construction company, a Pakistani restaurant, and a pastry shop. After the events of September 11, 2001, Ahmad co-founded the Council of Pakistan Organization (COPO). Based in his Midwood Brooklyn community, COPO has already taught tens of thousands of South East Asian immigrants ESL and basic computer courses as well as provided them with pro bono legal services and counseling. In 2002, Razvi initiated a youth basketball program for young adults of all races, religions, and ethnicities. But before all this, Ahmad worked as a push cart vendor on the streets of New York. Man Push Cart is his acting debut.
I met Ahmad Razvi a few years ago while researching for my new book
on Pakistanis in America to talk about COPO. I was mesmerized by his dynamism and commitment and in the book I point out that COPO was amongst the most effective Pakistani-American organizations in the US in the aftermath of 9/11. I must confess, however, that I could not have imagined that he would take his obvious charisma and dynamism in this direction. I wish Ahmad the best of luck and am anxiously waiting to see the movie on a theatre screen.