A young boy was born in 1954 in what is now Bangladesh. At the age of around 15, he moved to Karachi in search of a future in the music industry. He had brought nothing else with him but a guitar and a passion to sing. He settled in the PECHS area of Karachi and started singing in the evenings at a small cafe called "Cafe D Khan" on Tariq Road. He would not get paid for his gig, but did get a free meal each day. For an aspiring musician, just a free meal and an attentive audience was worth the effort.
And that is how a legend emerged. Who among us has not heard of Alamgir? From that small dimly lit cafe he got introduced to Khushbakhat Shujaat from the Karachi TV station and then to Sohail Rana, the music maestro who made careers for so many people. His guitar skills and rendition of a famous spanish song "Guanatanamera", altered to be "Albela Rahi" in Urdu landed him a spot on TV, and from there on he never looked back. In his own words he kept singing because it was his passion, and mesmerisingly watched himself become a superstar right before his own eyes.
Alamgir was the King of Pakistan Pop Music until mid 90's, and then, he disappeared. Yes, nobody has known for the past decade or so where Alamgir went. The guy who was ubiquitous on TV, who sang popular songs on TV and film, and who had one super hit after another, from "Dekha Na Thaa" to "Yeh Shaam Aur Tera Naam", "Neeley Neeley Amber per", "Cococorina", "Mainey Tumharee Gagar Sey" and "Maaon Kee Dua" just left his fans hanging and disappeared from the scene.
But this weekend I had a chance to meet Alamgir in person in Boston and listen to his songs again. Backstage I asked him about his story and it was intriguing. But before that, let me tell you how inspired I felt meeting someone so simple and down to earth. He has been on top of the world once, and yet he only speaks about his life long passion for music and singing. He has received numerous awards in absentia, but his biggest disappointment has been leaving his fans behind and not taking the time to tell them what he was going through.
Alamgir had become a star from the age of 15 and 25+ years of stardom took its toll on him. The hectic schedule, and pressure of moving from show to show, music studios to film recordings, and then to TV performances, simply sapped the energy out of him. He turned 40 and realized he had given so much to his fans, to his country, but had had not set aside any time for himself. That is when he moved to the USA and settled here, trying to find some space for his own life and family.
For the past 10-12 years he has been in the USA, shying away from public spotlight in Pakistan. But his passion for music continues. He has built a studio at home where sings and rehearses every day, he still performs on the weekends at small events around the US cities, and to his fans like myself, his voice still sounds the same as it did back in the 80's and 90's in Pakistan.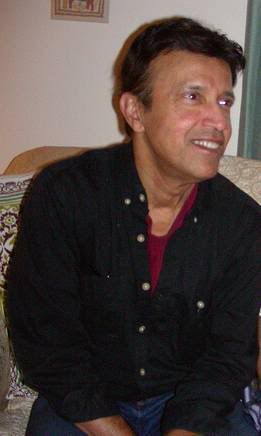 This weekend when he got on stage he did not have flashy clothes on, neither did his performance stage have glittering lights or a large band of musicians – but his energy was infectious. He danced around, making even people in their mid-60's move their arms around to join his rhythm. As for me, I was probably singing louder than he was. It was fabulous singing the classics I grew up with.
Alamgir is known to have composed and sung over 400 songs in 20+ languages. Besides Urdu, his songs in Bengali are also well known to his fans in both Pakistan and Bangladesh. Since the 1970's, and we are talking of the days before Nazia and Zoheb Hassan, Vital Signs, Junoon etc, he was the heart throb of the young generation. He brought Elvis like energy to his live and TV performances and brought the audience on its feet. I still remember an uncle trying to imitate him on "Dekha Na Thaa" at a family party, and I wonder how many of us have participated in, or at least witnessed, mehndi functions with Dandia dancing to the tune of "Mainey Tumharee Gagar Sey".
Alamgir went back to Pakistan last year after more than 10 years. He was invited to TMA ceremony where he received the Lifetime Achievement Award. He sang, and he sang like never before. In his own words he was overwhelmed by emotions, by the love he saw his fans still had for him, and how much they wanted him back. Well, he told me he does plan to go back now for a few months, release 1 or 2 new videos, and give a proper good bye to his fans. Until then, he sends his hello from Atlanta, Georgia where he is now settled with his wife and son.
Below, I am attaching links to a few videos that show the versatility of his talent.
The following is a song from Pakistani movie Jageer. The song is "Hum Chalay to Hamarey":
The next video is that of Alamgir performing "Maoon Ki Dua" on PTV:
And finally, watch one of Alamgir's recent performances in the US singing Mehndi Hasan's "Gulon mein rang bharey":