Syed Ahsan Ali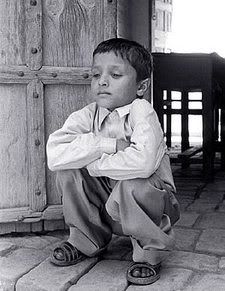 I share this all with you people because I think it will make some difference. All of my family members were invited to a birthday party of our neighbor's daughter who is unfortunately born with a disorder of learning things slowly. She is a beautiful little girl of around eight years who was wearing pink colored frock and sitting in the lap of his father looking like a little princess. But she was throwing things at guests, spitting at her friends' face and crying endlessly. Her family members were doing everything to please her. They are quite well-to-do family. It was a lavish ceremony with great arrangement and number of dishes.
Moment of anguish came when my aunt asked mother of little girl that when are you sending her school. She turned and gave my aunt a baffling look and said disdainfully "School" as if something hit her on head with a lightning speed. Then she gathered herself and replied no we can feed our kid and in this condition she cannot attend any of the schools. Her ill-informed attitude made us all retreat but left me with a great pain for that little innocent girl who is bound to spend rest of her life without any proper education or schooling whereas there are schools working in our country that help such children and made them able enough to mingle with other human beings.

Similarly another family lives in our neighborhood has a son that faints once he walks few yards due to some complications after his birth. Knowledge of that mysterious malady made him despondent and his family over-secure towards him that they are not pushing him for education. He just stays at home watching movies all day long, uses internet and rests in left-over time. He has been doing his intermediate from last few years and still unable to make it. I asked him once about his studies and he said it with utter impoliteness, "hum parhte nahi hain". He is a healthy looking young man with enough resources at his family's disposal that can arrange some education for him right at his doorstep. Experience of these two incidents makes me tell my own story so my readers can create awareness about this issue.
First few memories of my early childhood is of lying down in the hospital bed after going through a major cardiac surgery and my mother was talking to the handsome looking doctor. Since then things have been bit different for me. I have seen more hospitals than play-grounds, more laboratories than picnic spots and more fears than confidence. I was born with complex cardiac problem. I don't remember clearly when I first panted heavily after running few yards while I was standing there while my friends were playing cricket and one boy hit the ball across the boundary. In the scorching heat of mid-summer, no one was too keen to fetch the ball except me who wanted at least participation and I ran and after taking first few strides I felt excessive breathing which made me reeling. I stopped and sat there on the steps of our neighbors. I was all bluish. I never knew that running is so difficult. When that pain of heavy breathing and severe heart beating subsides, a new pain of not been able to play like others born in me. When I asked my father what happens to me when I run. He replied that brave people are born with a difference and you have to show that you are brave and different both. After that, I felt content in watching cricket from a distance.
I remember when I first admitted to the school, my class mates welcomed me warmly. But few of them were constantly looking at my clubbed fingers. Some were making fun while others were afraid and started looking in other directions. Everyone in my neighborhood asked my well-being every time I stepped out of the house. Sympathy was the most I always got no matter who I meet. Phrases like "Oh! Poor kid" and "Don't make him do that, he is sick" are commonplace when I was in school. My brother and sister carried my bag to the school while I walked like a king. But with time, that pride turned into embarrassment as I grow up. Teachers took special care of me and abstained from hitting or scolding me. But all this care, sympathies and affection evaporated as I entered my home. Outside world was forcing me to depend on them but my mother was adamant to treat me like a normal human being. She avoided asking me from doing heavy chores but kept me engaged in other small tasks which she thought would not distressed me like bringing groceries from the market.
My brother, sister and father were too keen on making me rest all day long but my mother never allowed that privilege. She instilled in me self-confidence that I needed to lead a tough life. I remembered when I passed my matriculation with the best marks in the school, my father told my mother to think about discontinuation of my studies. He thought that further studies could make my life burdensome. He told that I can feed my kid even if I have to do it all his life. That heated argument made me wept but fortunately my mother won that discussion. I pursued my studies with severe episodes of illnesses and diseases. Every time our relatives advised my mother to stop my studies and give me some break of year or two, she turned into a fort wall. She always said that no matter what I want him to be able to earn his living. I gave my intermediate exams after severe illness and there was only couple of months left to my examination but my mother pushed me to do it which I eventually did.
Today, when I look back at my mother's courage and my father's surrenders and un-dwindling cooperation, I felt inspired and amazed at what they amassed. Though, my parents are not with me any more but their efforts made me able to stand on my own feet. I just want to convey that don't do it to your children if they are facing any such problem. Impart any kind of education to them which is suitable in particular cases that can keep them in the streamline of life as you are not going to stay with them for all your life. If you can afford it then get some help so that your unfortunate children spend the rest of their lives with dignity.
Also see:
Yeh bacha kis ka bacha hai
Universal Children's Day
Give Every Child a Laptop
Coconut Seller