Adil Najam and Owais Mughal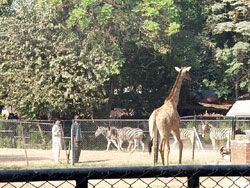 The phase of unrest and 'zulm' that Pakistani society is passing through, now seems to have made inroads in the Animal Kingdom.
Three precious animals have died in Lahore area zoos in the past 1 week and from news it looks like all deaths were preventable. A giraffe, a Bengal tiger and a neel gaaye (an antelope) are those who lost their lives.
Following two news have appeared in national press which give details of these accidents.
(1) Daily Times of January 2, 2009
A zebra attacked a female giraffe in the city zoo on Thursday afternoon and killed it in presence of zoo staff and dozens of visitors. According to sources, three giraffe, a male and two females, were imported from Australia in 2007 at a cost of Rs 7.4 million and were kept in one compound without keeping in view the risk factors.

On Thursday, a zebra attacked the giraffe and kicked it to death. The zoo staff was also present, but could not do anything to save the animal. An inquiry committee has been set up to investigate the incident. It will present its report to the Wildlife Department director general in a couple of days. aaj kal report
(2) The Daily Jang – Web Update, January 9, 2009
After eating the meat of a dead antelope (neel gaaye), the Bengal Tiger of the Woodland Zoo located on Raiwind Road Lahore also died. Earlier the neel gaaye had died after being bitten by some poisonous insect. The staff of the zoo used dead neel gaaye's meat to feed the Bengal Tiger who also died after eating the meat. The deputy director of Woodland Park claims tiger did not die because of eating 'neel gaaye's meat. They will conduct post mortem to find out the exact cause of tiger's death. The exact news as it appeared in jang is below:

Some Other Posts at ATP:
1. Baluchitherium: The Beast of Balochistan
2. The Leaping Oxen of Kanjwani