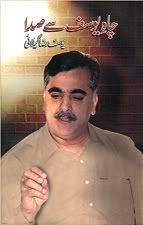 Published memoirs by political figures while they are still politically active can be a risky strategy. In case of now U.S. President Obama it paid huge dividends financially and politically. In the case of Gen. Pervez Musharraf it caused embarrassment and innuendoes. Pakistan Prime Minister Yousuf Raza Gillani's book, Cha-e-Yousuf Say Sada, was written before he became Prime Minister, and may already be forgotten.
The book, Chah-e-Yousuf Say Sada, reads like gossip from an old friend who has attained position of authority and pays you a surprise visit. As the name suggests "Cry of Joseph from the Bottom of Pit" (chaah-i-Yousuf se sadaa) was written during his five year incarceration for corruption charges designed to keep him quiet and inactive against a military dictator or change his loyalty and betray PPP which he refused.
Premier Gillani, to his credit, put his personal grievances aside and worked under the same president for six months. This statement probably sums up Gillani's personality of maintaining a working relationship with authority and dictatorship. The first time he served under military dictator Zia ul Haq was from 1983 till 1988.
The Book was written in a hurry, it seems in a friendly rivalry with fellow prisoner, personal friend and political rival, the right wing Muslim League (PML) chairman Javed Hashmi. Hashmi was serving a life sentence for soliciting treason and sedition against armed forces. His memoirs "Yes, I am rebel" gained bestseller status and critical acclaim in an ever declining literary world of Urdu language.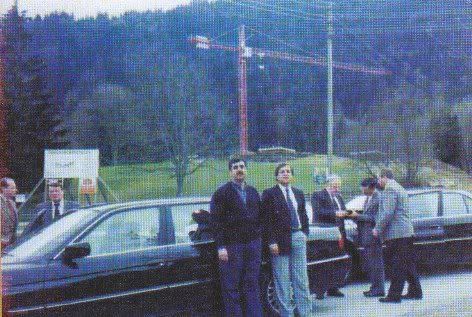 In the photo to the right Yousuf Gilani and Javed Hashmi are seen together on a trip to Germany.
Cry of Joseph is a hastily written record of his own version of history and in defense of his Pakistan People's Party (PPP). The historical reference to the story of the prophet Joseph (Yusuf) depicts the treachery of Yusuf's own brothers which resulted in his enslavement. Yousuf Raza Gillani writes, "It is pointless to be bitter about past events and betrayals." This attitude seems to have defined his politics before and since his imprisonment.

The book reveals more than it tries to hide, because it was written in a period of imprisonment, Gillani could not have anticipated the sudden change in fortune, his personal freedom and election as prime minister of Pakistan, as a result the memoirs are candid and polite yet reveal a lot, about the party and the main players, between the lines.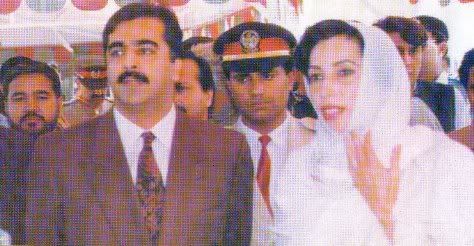 Gillani himself admits that certain family members and fellow inmates contributed to the narrative of events relating to the Gillani family. Some parts were rearranged chronologically and ghost written by one of his closest friends. The acknowledgment of this help from friends and family shows a certain degree of humbleness and down to earth admission of own vulnerability by the prime minister.
The Book itself has two distinct writing styles, pre-1988 and post-1988. The date is important because Gillani changed his political allegiance from right-wing PML to the centre-left PPP at this point.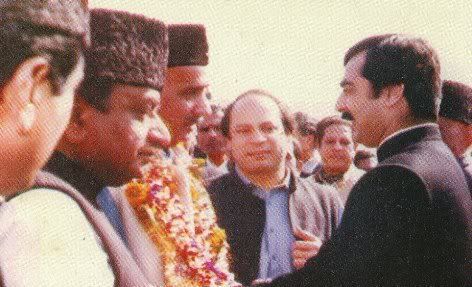 In the photo to the right (circa 1985), Yousuf Gilani is seen welcoming PM Mohammad Khan Junejo. The then Governer Punjab Makhdoom Sajjad Hussain Quraishi and Chief Minister Punjab Nawaz Sharif are also visible.
The narrative pre-1988 borders on boring. The family history of Gillanis is of serving the authorities faithfully and diligently. Pakistani political memoirs are usually self serving, filled with selective amnesia and distortion of historical events.
The irony of his own imprisonment is not obvious to the writer when he is writing about political subservience and changing of loyalties within his family who served all rulers from Mughals and Afghan kings to the British occupiers and latter day Military dictators of Pakistan. The Family uncles and cousins made compromises and agreements to stay in power and favor with whoever was in the power. The passages about his latter day mentor Benazir Bhutto and her slain father Zulfikar Ali Bhutto sound more like a press release statement lacking any personal reflection and emotional attachment.
Yousuf Raza Gillani laments that Murtaza Bhutto (son of Bhutto) sarcastically remarked "Z Bhutto was killed when Gillani was celebrating (he got married in April 79)."
Post-1988 the political career took a turn for better, for the first time Gillani questioned the authority of dictator's personal party and joined Benazir's PPP in his prime. PPP was struggling against a dictator and it was a wise move to join at the right time as Benazir became the first Muslim female Prime Minister.
The narrative becomes more reflective and analytical about his appointment as minister for tourism. He started a liberal and modern approach to culture and tourism in Pakistan, inviting foreign journalists and tour operators for advertising and cultural conferences. His feudal and religious background has not stopped his wife from playing an active part in his professional and political life at home and abroad. His wife also played an active role in campaign for his release during the 2001-2005 period.
In the last chapter of the book, Gillani shows a deep understanding of human rights issues in Pakistan and conditions of prisoners in Pakistani jails. Gillani's travels abroad enabled him to understand different styles of governance. He rightly points out the need of sustainable democracy and continuous electoral process without the obstacles of dictatorial rule. Water shortages, opposition of clergy to the family planning and explosive population growth pose a threat to development of Pakistan. Gillani proposes the growth and development of IT, computing education and services industry in order to create employment in Pakistan. Well now is the time to deliver on this vision Mr. Prime Minister.
Photo to the left shows celebrations after Yousuf Gilani won the Chairmanship of Multan District Council in 1983.
Politically, Gillani has found his independence and vision within the party discipline of PPP. His impartiality as the Speaker of Assembly won him many friends in opposition and made him many foes within PPP. He tells of incidents where he privately and publically disagreed and argued with then Prime Minister Benazir Bhutto and First Spouse Asif Ali Zardari.
Ms. Bhutto was patient and active listener to constructive criticism by a loyal party leader. Although her successor and widower Mr. Zardari has not rebuked now Premier Gillani publicly, recent events have again brought subtle differences in approach as well as substance into sharp relief and the relationship between these two men is likely to become important to what happens in Pakistan next.
As the book amply demonstrates, the soft spoken Mr. Yousuf Raza Gillani does not believe in rocking the boat and challenging authority. He prefers to work behind the scenes to reach compromise and consensus with opposition, hope he can deliver when the push comes to shove. This seems to have succeeded in some cases recently, including on the restoration of Chief Justice Iftikhar Chaudhry. But the question remains whether this approach will continue to work and how it will shape the legacy of Prime Minister Yousuf Raza Gillani as well as the history of Pakistan politics.