Two days ago, Pakistan's cricket team gave us this happy news and smiles that are hard to find these days. Pakistan was able to beat World Champions Australia in the first ODI by 4 wickets. Scorecard here. This was Pakistan's only 2nd win against Australia in the past 12 ODIs. Today is second ODI between two teams. Who will win it? Tables may get turned against Pakistan but first ODI's result came as a real breath of fresh air for the followers of Pakistani cricket team, and we can bask in its glory for a while.

Following is the video of Australian wicket fall in first ODI. Shahid Afridi gave his career best performance of 6/38 with the ball.
Current ICC ODI Ranking: As of April 23, 2009:
1. South Africa 126
2. India 122
3. Australia 121
4. Pakistan 113
5. New Zealand 112
6. England 108
7. Sri Lanka 105
8. West Indies 92
9. Bangladesh 46
10. Zimbabwe 23
11. Ireland 19
12. Kenya 0
Let us look at some Pakistan vs Australia ODI statistics here.
Pakistan vs Australia Results:
Since the world cup of 1975, when the two teams first faced each other, Pakistan and Australia have played 75 ODIs with each other.
Pakistan has won 28 (39.58%) and Australia 43 (60.41%). One match has been a tie and 3 were abandoned.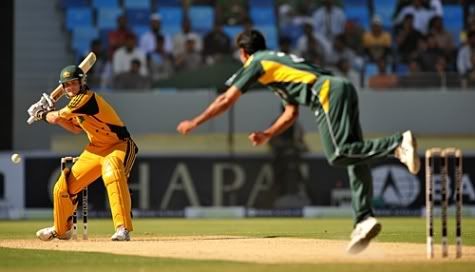 Highest Total:
Pakistan's highest total against Australia in ODIs is 315/8 off 50 overs, made in Lahore in 1998.
Australia's highest total vs Pakistan is 337/7 off 50 overs, made in Sydney in 2000.
Lowest Total:
Pakistan's lowest total against Australia in ODIs is 108 all out in 36 overs, made in Nairobi in 2002.
Australia's lowest total vs Pakistan is 120 all out in 41.3 overs, made in Hobart in 1997.
Largest Victories:
Pakistan beat Australia by 91 runs in Brisbane in 2002
Pakistan beat Australia by 9 wickets in Rawalpindi in 1994
Australia beat Pakistan by 224 runs in Nairobi in 2002
Australia beat Pakistan by 9 wickets in Adelaide in 1988
Most Runs:
For Pakistan: Javed Miandad – 1019 runs at 33.96
For Australia: Steve Waugh – 1003 runs at 31.34
Highest Individual Scores:
For Pakistan: Ijaz Ahemd – 111 runs at Lahore in 1998
For Australia: M Hayden – 146 runs at Nairobi in 2002
Most Sixes:
For Pakistan: Wasim Akram: 26
For Australia: A Symonds: 8
Most Wickets:
For Pakistan: Wasim Akram – 67 at 27.43
For Australia: G McGrath – 57 at 19.10
Best Bowling:
Pakistan: Shahid Afridi – 6/38 in Dubai in 2009
Australia: C Rackemann – 5/16 in Adelaide in 1984
Most Dismissals by a Wicket Keeper:
Australia: A Gilchrist – 44 (39 ct, 5 st) in 24 matches
Pakistan: Moin Khan – 25 (20 ct, 5 st) in 18 matches
Partnership Records:
1st 154 MA Taylor, TM Moody in Brisbane in 1990
2nd 193 AC Gilchrist, RT Ponting in Lahore in 1998
3rd 140 KC Wessels, AR Border in Sydney in 1984
4th 173 DM Jones, SR Waugh in Perth in 1987
5th 162 Inzamam-ul-Haq, Yousuf Youhana at Lord's in 2004
6th 90 DM Wellham, RW Marsh in Sydney in 1981
7th 124 Yousuf Youhana, Rashid Latif in Cardiff in 2001
8th 92 Yousuf Youhana, Shoaib Akhtar in Karachi in 1998
9th 57* Saqlain Mushtaq, Waqar Younis in Brisbane in 2000
10th 46 JR Hopes, BW Hilfenhaus Australia Dubai 2009
Most Appearences:
Pakistan: Wasim Akram 49
Australia: Steve Waugh 43
Overall ODI Records (All matches included):
Pakistan: 694 matches, 376 wins (55.81%), 297 losses, 6 ties, 15 NR
Australia: 703 matches, 403 wins (63.72%), 243 losses, 8 tied, 12 NR
NOTE: All records are current as of April 23, 2009
Photo Credits: cricinfo.com