khayaal-e-Khatir-e-ahbab chahiye har dam
Anees Thes na lag jai aab-ginoN ko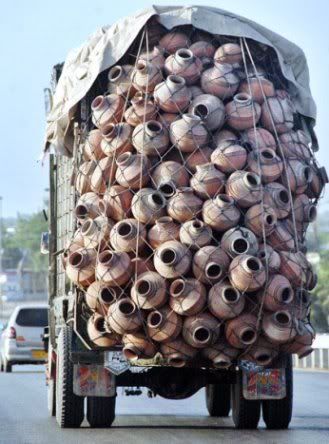 The truck here is transporting earthen clay pots (called 'matka' – singular) which are used to keep drinking water cool. Being made out of clay, one would imagine not to try transporting them without any packaging BUT that is the beauty of Pakistani transport which continues to defy the norms of Aesthetics, Physics, Mechanics, Capacity, Luxury, Hilarity, Logic, Poetry, Center of Gravity, Speed Limits etc.
What do all these fragile matkas hanging so precariously remind you of? Can you suggest a title.
The photo is from April 26, 2009 taken on Sukkur bypass by Jehangir Khan.
ATP's Other Related Posts:
1. Chinese Characters on Pakistani Transport
2. Rawalpindi to Sialkot by Bus, Truck, and Tonga
3. deewan-i-transport
4. Pakistan's indigenous art of Truck Painting
5. The Party is at the Motorway
6. Autobahn Road, Hyderabad
7. How many people are on this motorcycle
8. The Pakistani Rickshaw
9. Overloaded Vehicles on Pakistani Roads
10. Pushing the Limits